Will election ease Kyrgyzstan tensions?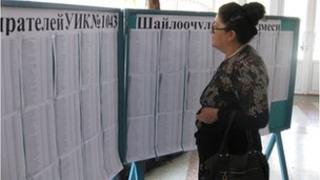 Voters in Kyrgyzstan are set to elect a new president, hoping to put months of political turmoil and ethnic tension behind them.
The last elected leader, Kurmanbek Bakiyev, was removed by a public uprising one-and-a-half years ago, which left over 90 people dead.
Weeks later, ethnic violence between Kyrgyz and minority Uzbeks in the south resulted in the deaths of more than 400.
The events have brought even greater hardship to Central Asia's poorest country.
But there are hopes that a fresh start can be made with a new political system, which will strengthen parliament at the expense the president's powers.
Protest culture
Kyrgyzstan's Central Asian neighbours, such as Uzbekistan, Kazakhstan and Tajikistan, are all still ruled by strong-arm leaders, who have been unchallenged since Soviet times.
Kyrgyzstan in contrast has seen two leaders removed by violent protest in the last six years.
This time, 16 candidates are running for president, with three, Almazbek Atambaev, the current prime minister, Adahan Madumarov and Kamchybek Tashiev seen as front-runners
Roza Otunbayeva, who has led the country since Mr Bakiyev was ousted, is not contesting the polls.
Public protests, from picketing parliament to blocking main roads, are a daily occurrence in a country which has gained a reputation for both instability and relative openness.
At one pre-election protest, women were urging candidates to help them pay back business loans.
"If the state could create better business conditions, maybe I'd be able to pay off my loan," a protester told the BBC. "We want the presidential candidates to take note of this problem."
John Heathershaw, an international relations expert observing the poll in Kyrgyzstan, said that the protest culture was a sign of democratic development in the country.
"Because there are significant civil society groups, political parties that have the freedom to operate, have the freedom to speak out about their concerns, that means they do take to the streets," he said.
"You would not find this in Tajikistan or Kazakhstan even, because there is no such political culture."
Low-key campaign
But there are plenty of problems to overcome, according to observers.
The campaign itself has been low-key, with rallies attracting a few hundred people at the most.
The OSCE (Organisation for Security and Cooperation in Europe) observation mission in the country says that the campaign is driven by personality rather than issues.
Of the candidates, only a few have the stature, political base and campaign funds to be considered serious challengers.
There are no female candidates in the race.
Contenders have been using free air-time to come face-to-face in live televised debates.
But a lottery system in allocating who faces who has meant that none of the heavyweights have come up against their main challengers.
There were farcical moments too, when two candidates used the limelight of the TV cameras to announce they were quitting the race.
Free and fair?
Apart from the OSCE, a number of national and international organisations are monitoring the vote.
Some have raised concerns over the number of people who may not be able to vote, especially as tens of thousands of citizens work as migrants in Russia and only a few polling stations abroad are available.
And while rumours of vote-buying have been making the rounds, observers have so far found no evidence.
There has been anecdotal evidence of multiple registration, with prosecutors investigating a man trying to get himself on 10 different voter lists.
But the biggest challenge will be to restore trust between ethnic communities and bring the Uzbek minority back into political life.
OSCE election observers say that ethnic Uzbeks have been reluctant to engage with the campaign.
"They tend to stay away from rallies organised by candidates and avoid participating in other public outreach events," the OSCE's interim report noted.
It also said that only two candidates had printed election materials in Uzbek, and campaigning in minority areas had been limited to distributing print materials.
There is no ethnic Uzbek candidate. Mistrust and fear are still present in both communities.
Human rights organisations said that the targeting of mainly Uzbeks in the arrests and trials dealing with the ethnic violence last year had kept tensions simmering.
One young man in Osh told the BBC that Uzbeks wanted a president who could ensure law and order.
"The law enforcement workers do what they want. They beat detained people and incriminate them with something that they haven't done. The main thing is that law enforcement workers must be restrained."
The new president, he said, should be a normal and worthy person who could convince people to live in peace.
That will be the winner's biggest, but by no means his only challenge.
Stability
Achieving reconciliation is one factor in stabilising the country.
Another is to reconcile opposing political forces in the north and the south and to avoid the country becoming more polarised.
The present government has been warning for months that it faces a threat from Islamic militants infiltrating from Afghanistan and Pakistan.
The flow of drugs from Afghanistan heading West is another factor, strengthening powerful criminal networks and undermining electoral politics.
Observers said that all these matter to the West: not least because the United States has an important military supply base in Kyrgyzstan, supporting its troops in Afghanistan.
But they also matter because militancy, drugs and general instability could easily have a knock-on effect in neighbouring countries, in what is an already shaky part of the world.