Australian Matthew Ng jailed in China for embezzlement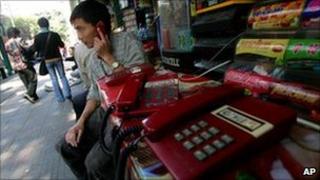 An Australian businessman has been sentenced in China to 13 years in jail for embezzlement.
Matthew Ng, a Chinese-born Australian citizen, was detained by police in the city of Guangzhou in November 2010.
His trial centred on a commercial dispute between his travel company Et-China and Lingnan Group, a corporation owned by the Guangzhou municipal government.
The Australian government has raised concerns with Beijing over the case.
"We have made clear to Chinese authorities our strong interest in Mr Ng's case," said the Department of Foreign Affairs in a statement.
The department said Prime Minister Julia Gillard had talked to Chinese Premier Wen Jiabao about Ng's case, and other officials had spoken to the Guangdong government.
But Australian officials said they could not detail their concerns because Ng was expected to appeal against the sentence.
Ng was convicted of four offences related to bribery and corruption at the Intermediate People's Court of Guangzhou.
'Sacrificial object'
His company took a majority holding in a firm called GZL, a subsidiary of the Lingnan Group, during 2007 and 2008.
But Lingnan later asked Ng to sell the shares back at the original price, Australian media reports say.
Ng refused, and Australian commentators say he was punished for refusing to bow to the state-run firm.
He reportedly told the court at his sentencing that he was a "sacrificial object" in a bigger game.
But Chinese prosecutors accused him of illegally transferring money between Et-China and GZL, and bribing GZL officials.
Chen Yong, one of Ng's defence lawyers, told the BBC that prosecutors had submitted new evidence to the court.
"After cross-examination, the court suddenly announced that they were going to deliver the verdict," he said. "We were all surprised by that."
Nikki Chow, Ng's wife, told Australian media she was devastated by the sentence.
"Thirteen years for Matthew, I don't think he can take it," the Sydney Morning Herald quoted Ms Chow as saying.
"He was shocked, very shocked, nobody expected the verdict would be today."
A Chinese foreign ministry spokesman said that "competent authorities tried the case in accordance with the law".
The court also jailed GZL boss Zheng Hong for 16 years for taking bribes, and GZL's former chief financial officer Kitty Yang Xiaoping for three-and-a-half years for charges including embezzlement.