Malaysia prosecutors appeal against Anwar acquittal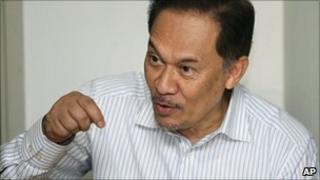 Prosecutors in Malaysia have filed an appeal against the acquittal of the opposition leader, Anwar Ibrahim, on charges of sodomy.
He was cleared of the charges earlier this month when a judge ruled that the DNA evidence was inadequate.
Mr Anwar's lawyer said the appeal was futile and part of a campaign of political persecution.
The Attorney-General's office said the family of the alleged victim had urged an appeal.
It said the decision was based on legal considerations alone.
Anwar Ibrahim is expected to lead a resurgent opposition coalition in elections that could be called in the next few months.
His supporters have expressed concern that the appeal could take years and undermine his attempts to lead disparate parties including Islamists and secular urban Chinese.
Mr Anwar has been battling the sodomy charges for four years and has accused the government of using them to stop him taking power.
The charges were brought against him after he led the opposition to big gains in the last elections in 2008.
He had previously served six years in prison before his conviction on a previous sodomy was quashed.