Suspended term for Thai web editor over royal insult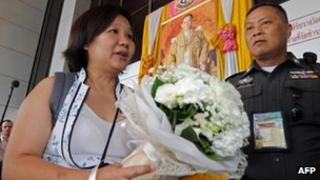 An editor of a Thai political website has been given an eight-month suspended sentence for failing to remove comments deemed insulting to the monarchy.
Chiranuch Premchaiporn had faced up to 20 years in jail over the 10 posts, by other people, on the Prachatai website.
The judge said the verdict was based on a comment left on the site for 20 days.
The case has been seen as a test of freedom of expression in Thailand, amid debate about the use of laws that ban criticism of the monarchy.
Ms Premchaiporn, convicted under computer crimes law, was given a one-year suspended sentence that was immediately reduced to eight months. She was also fined 20,000 baht ($625, £403).
She "did not perform her duty in a timely manner" and "allowed the inappropriate posting to be on the website for too long", AP news agency quoted Judge Kampol Rungrat as saying.
"I expected to be acquitted, but I found the judge's verdict logical and reasonable," Ms Premchaiporn told reporters. "However, I still think the verdict will have an impact on self-censorship."
The verdict came amid ongoing discussion over Thailand's lese majeste laws, which are intended to protect the monarchy.
Critics say the laws have been increasingly politicised and used to curb free speech.
The discussion intensified after a Thai man in his 60s who was jailed for 20 years for sending text messages deemed offensive to the royal family died in prison earlier this month.
On Tuesday a petition carrying 27,000 signatures urging reform of the laws was submitted to the Thai parliament, said an AFP news report.