Australia's central bank concerned about housing market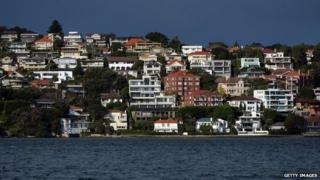 Australia's central bank says it is closely watching a build-up of lending to housing investors.
The Reserve Bank of Australia (RBA) also said it was in talks with the nation's financial regulator about lending standards.
RBA Governor Glenn Stevens said lending standards needed to be closely watched because of rising house prices.
There are fears young families are being priced out of the over-heated housing market.
After delivering a speech in Sydney, Mr Stevens said the bank was in discussions with the regulator - APRA (Australian Prudential Regulation Authority) - about whether there was more to be done to reinforce RBA's lending standards.
"Those discussions are continuing and when there is something to be said, it'll be said all in good time," he said.
Mr Stevens stressed that home owners and first-home buyers were not the targets, but rather investors in the housing market.
Sydney's housing market is by far the hottest of Australia's capital cities. It has grown 15% over the 2013-14 financial year, compared with a combined 10% across all the capital cities, according to figures from the property information firm RP Data.
Australian housing prices are among the least affordable in the OECD.