Ebola outbreak: Obama asks Australia for help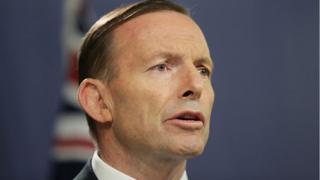 The US and UK have asked for Australia do more to fight the spread of Ebola in West Africa, Australian Prime Minister Tony Abbott says.
Mr Abbott told MPs he had discussed the Ebola outbreak on a phone call with US President Barack Obama on Wednesday.
Opposition parties have accused the government of not doing enough to help the international effort.
The government has said it will not send Australians to Africa until it can guarantee their safety.
The disease has killed more than 4,800 people in the worst affected countries: Sierra Leone, Liberia and Guinea. More than 9,900 people have been infected.
Last week, opposition leader Bill Shorten said the government needed to co-operate with international authorities rather than waiting for the crisis to spread further before reacting.
"Australia cannot sleep-walk its way through this crisis," said Mr Shorten. "I don't think anyone thinks the government has done enough."
He accused Mr Abbott of showing a "lack of leadership that is very risky policy".
Australia has contributed A$18m ($15.7m, £9.8m) to combat Ebola, but the government had previously said it would not send Australian medical teams to Africa until an "iron-clad" agreement on evacuating health workers who may become infected had been reached.
Mr Abbott's government has argued that Australia is too far from Africa for a medical evacuation so a third country would need to provide medical assistance for an Australia patient.
"There is a world of difference from volunteers going… and the government ordering Australian defence personnel to go," Mr Abbot said last week.
Peter Varghese, head of the foreign department, has said there are talks ongoing with a number of countries to reach an evacuation deal.
Mr Abbott has said that Australia must focus on preparing for a potential outbreak in Asia. But he told parliament on Thursday he was "carefully considering" the requests from Australia's allies.