Anzacs' sacrifice remembered 100 years on in Albany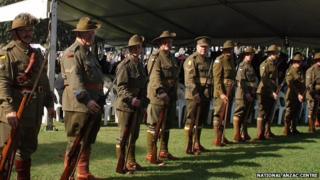 One hundred years on, the Anzac (Australian and New Zealand Army Corps) legend is as strong as ever in the national consciousness but it is in one of Australia's most remote towns that the country's formal commemoration of its entry into World War One will begin.
The tiny whaling town of Albany, tucked in behind a series of harbours and headlands on the southern coast of Western Australia, would have been the last sight of "home" for many of the young men sailing off to war.
Beyond the protected waters of King George Sound lay Southern Ocean swells, sudden squalls and dangerous winds that roared up from the South Pole.
An armada of ships few of the town's inhabitants would have witnessed before was bound for a European war. But most of the 30,000 soldiers and thousands of horses on board would end up on the blood-soaked beaches of Gallipoli.
It was on 1 November 1914 that Australian and New Zealand troops sailed for Turkey and other battlefields in World War One.
News of the departure of a convoy of Australian, New Zealand and Japanese battle cruisers and warships protecting 38 troopships did not reach the rest of Australia for another three weeks.
But surviving reports from that day describe a spectacle, with young soldiers cheering and counter-cheering between the vessels and, according to New Zealand War Historian Fred Waite, Maori war cries matched by shouts of the Australian coo-ee.
One hundred years on, Australia is commemorating the convoy's departure with a re-enactment on Saturday in Albany's King George Sound. Five Royal Australian Navy warships, two from New Zealand and JDS Kirisame from Japan will take part.
The Federal and West Australian governments, in conjunction with the Returned Services League (RSL) West Australian Branch and the City of Albany, have organised a programme of events and initiatives to mark the national launch of the Anzac Centenary.
Years in the planning, the four-day programme includes a troop march, a commemorative service that will be attended by Prime Minister Tony Abbott and New Zealand Prime Minister John Key, a community concert and an open day for naval ships. A new Anzac museum, the National Anzac Centre, will also be opened, with an interactive display that tells the stories of 32 soldiers.
More than 100 soldiers from Western Australia's 13th Brigade will be there and an AP3-C Orion and Hawk 177 Royal Australian Air Force air craft will fly to Albany.
The event is one of a long line of Australian World War One commemorations that will culminate in April next year at Gallipoli. Only about 8,000 members of the public will be there for that Anzac Day Dawn Service but travel agencies estimate thousands more have booked to travel to Turkey at the same time.
World War One and, in particular, Gallipoli loom large in the Australian consciousness. The number of people visiting the Gallipoli battlefield for the Dawn Service has been increasing in recent years, with some historians suggesting it is part of Australia's and New Zealand's on-going search for distinct national identities.
So many people visit Gallipoli that a bigger commemorative site for the annual Dawn Service was built in 1999. In 2005, when new road-widening and building was carried out, natural erosion of the beaches' steep banks accelerated. Significant sites of battle action disappeared, including trench remains at Lone Pine and Quinn's Post.
A Senate inquiry into the issue said the development had "damaged permanently" Anzac's military heritage. Australians had to be reminded that Gallipoli was Turkish, not Australian territory.
This weekend's event is expected to attract more than 75,000 people to Albany, tripling the local population, according to Tourism WA. It estimates 25,900 privately owned or rented vehicles will travel to the town and accommodation is already booked out.
Albany Mayor Dennis Wellington said the idea for the event originated with the local branch of the RSL, went to a committee in Canberra and then "snowballed from there".
"Three levels of government have had to work together, which was an interesting exercise," he says.
It's the biggest event ever staged in the town, which boasts a long association with the Anzac tradition. Albany claims to have held the first Dawn Service a few years after the end of the war.
The departure of so many men to war, a third of whom never returned, has long been a part of the town's story, said the mayor.
"It is something we have lived with for a long time and I believe the Anzac story is becoming the biggest of Australia's stories.
"We are very proud of our involvement."