Gough Whitlam: Key quotes from memorial to Australia's ex-PM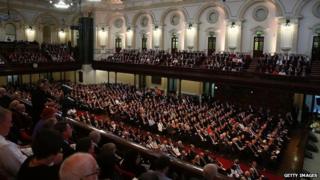 Thousands of Australians have watched a memorial service for the country's former Prime Minister Gough Whitlam, following the event on public screens in several locations.
He was the country's leader for less than three years, from 1972 to 1975, but made controversial decisions and saw through far-reaching reforms, improving access to healthcare and education, among others.
Inside the Sydney Town Hall, former Prime Ministers Malcolm Fraser, Bob Hawke, Paul Keating, John Howard, Kevin Rudd and Julia Gillard joined Prime Minister Tony Abbott to pay their respects.
A number of dignitaries and friends and relatives of Mr Whitlam addressed the service. Here is a selection of their quotes.
---
Noel Pearson, lawyer, academic and Aboriginal land rights activist from Cape York, Queensland
"We could not be more in debt to this old man's foresight and moral vision.
I don't know why someone with this old man's upper-middle class background could carry such a burning conviction that the barriers of class and race of the Australia of his upbringing and maturation should be torn down and replaced with an unapologetic principle of equality.
We salute this old man for his great love and dedication to his country and to the Australian people. When he breathed, he truly was Australia's greatest white elder and friend without peer of the original Australians."
---
Senator John Faulkner, a senior Labor leader and close friend of Mr Whitlam
"His government, cut short though it was, transformed our country in ways that still endure, four decades later.
The optimism and energy which he represented, which he embodied, were and remain emblematic of a vision of Australia as an independent, confident, outward looking, generous nation.
In a time when so many are so cynical about politics, let us remember that this great Australian chose politics as a cause and a lifelong passion.
He was a staunch constitutionalist, a consummate parliamentarian, a great prime minister, he was all these things and he was a Labor man."
Mr Faulkner's website has the full text of his speech.
---
Cate Blanchett, actress
"When I heard that Gough Whitlam had died, I was filled with an inordinate sadness, a great sorrow.... The loss I felt came down to something very deep and very simple: I am the beneficiary of free tertiary education.
I am the beneficiary of good, free healthcare.... I am a small part of Australia's coming of age, and so many of those initiatives were enacted when I was three.
I am a working mother of three, and when I took on the role in Little Fish [in 2004] I had just had my second child. No-one batted an eyelid. No-one passed judgment and no-one deemed me incapable because the culture around women, and the right of women to work as equals in Australia had also been addressed significantly by Gough Whitlam.
I was but three when he passed by, but I shall be grateful 'til the day I die."
---
Anthony Whitlam, QC, the eldest of Mr Whitlam's children
"Gough, of course, would have loved to speak today but the rules of the game have disqualified him. That is just as well as I am told the Town Hall is booked tomorrow.
The grace and serenity with which Gough accepted the decline in his health was quite striking.
The road ahead may be difficult for all Australians but we need not be divided on partisan lines."
---
Graham Freudenberg, Mr Whitlam's former speech writer
"The Whitlam touch is on us all. He touches us in our day to day life, in the way we think about Australia, in the way we see the world.
He touches, still, the millions who share his vision for a more equal Australia, a more independent, inclusive, generous and tolerant Australia, a nation confident of its future in our region and the world."
He believed profoundly in the Australian Labor Party as the mainstay of Australian democracy and Australian equality.
[Former Labor Prime Minister] Paul Keating is right. There was an Australia before Whitlam and there was a different Australia after Whitlam."
---