'Catastrophic' bushfire warning for South Australia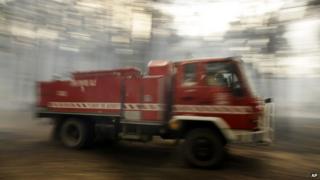 The state of South Australia is facing "catastrophic" fire conditions, with very high temperatures and dangerous hot dry winds.
Water-bombing aircraft are on standby in preparation for possible bushfires.
The South Australian Country Fire Service (CFS) has declared total fire bans for 12 out of 15 fire districts.
This is the first catastrophic rating for South Australia of the fire season which, as in other states, started early this year.
A catastrophic rating is called when conditions are considered at their worst to try and fight a fire.
A very dry end to winter and unseasonably hot days during spring have created dangerous fire conditions across Australia.
The Australian Bureau of Meteorology has forecast temperatures in South Australia's capital city of Adelaide will rise as high as 39C on Friday.
The CFS has urged people to be aware that essential services, such as mains-fed electricity and water supplies, might be disrupted and unavailable when there is a high risk of fire.