Australian 'rebel' Senator Lambie demoted as Pup split deepens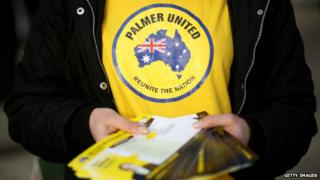 Senator Jacqui Lambie has been demoted by her Palmer United Party (Pup), in what is seen as a blow to the Australian coalition government.
Pup leader Clive Palmer said she had been removed as deputy Senate leader and deputy whip of the party.
Last week she opposed a government bill, defying party orders.
The government needs the votes of six of the Senate's eight non-coalition senators - including the Pup - to pass legislation.
Defence deal row
On Wednesday, Mr Palmer said he had demoted Sen Lambie for failing to attend party meetings this week.
But he stressed that Tasmanian senator had not been kicked out of the party.
"We've also suspended her from attending any party room meeting meetings until such time as she gives an undertaking not to attack individual party members and to attend party meetings and to abide by majority decision and normal party procedure," Mr Palmer was quoted as saying by Australia's ABC broadcaster.
Australia's Liberal-National coalition government has on several occasions relied on the Pup - a minor parliamentary party - to pass legislation.
Getting those votes looks tougher now.
Sen Lambie, a 43-year-old former soldier, last week said a split in the party would only be avoided if Mr Palmer adopted more of her policy positions.
She warned she would vote against all government legislation unless a pay deal for the Australian Defence Force was improved. The pay deal delivered a lower-than-inflation annual increase of 1.5%.
Sen Lambie also said other party members were unhappy with Mr Palmer's leadership style.
Mr Palmer is a billionaire businessman who has been accused of establishing his party in 2013 as an act of revenge after his split with the Liberal National Party of Queensland.