Pregnant refugee bus standoff in Darwin ends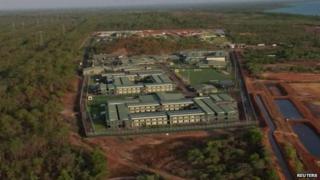 Two heavily pregnant refugees have been taken into a detention centre in Darwin, ending a three-day standoff, Australian immigration officials say.
The two women had been living on the Pacific island of Nauru, but were flown to Australia on Saturday to give birth.
On arrival at the detention centre, the women refused to get off the bus. They reportedly said they had been told they would be placed in the local community.
The government denies this, and says the women were cared for throughout.
The two women, both eight months pregnant, are of Iranian origin.
They had been settled in Nauru after being granted refugee status. They were flown to Darwin with their husbands, and one woman's 10-year-old son, on Saturday.
After they learned they had been taken to Wickham Point immigration detention centre, the women refused to leave the bus, leading to the three-day standoff. They eventually entered the detention centre on Tuesday.
'No Australian visa'
"The women and their families were temporarily transferred to Australia for medical purposes," the immigration department said in a statement carried by the Australian Associated Press.
"The families hold valid Nauruan visas and have been settled in that country," the statement said, adding that they held no Australian visa.
"The women have been placed in the facility best suited to their medical needs," it said.
Refugee rights activists and health groups had expressed concern for the women's wellbeing, especially as Australia has been experiencing its hottest spring on record.
Greens Party Senator Sarah Hanson-Young told reporters on Monday that the women had arrived in Australia from Nauru legally.
"It is absolutely abhorrent... to see pregnant women, two mothers and a little boy, detained on a bus in 30-degree heat in the middle of summer," she added.
Activists have also argued that the standoff revealed failings in Australia's asylum seeker policy.
Refugee Action Coalition spokesman Ian Rintoul told broadcaster ABC on Monday that as recognised refugees, the women should have the right to live in the community while in Australia.
"For them to say they would rather go back to Nauru and take whatever risks might be associated with having the babies on Nauru rather than spend a night in detention, it just says a lot about what they have been through in detention on Nauru," he said.
Asylum seekers arriving in Australia are detained, and have their claims processed in Nauru and Papua New Guinea. Those found to be refugees are resettled in Papua New Guinea, Nauru or Cambodia.
The government says tough policies are needed to deter asylum seekers from making the dangerous journey to Australia by boat.
Polls have shown a significant number of Australians approve of taking a tougher stance.
However, rights group say conditions in the PNG and Nauru camps are totally inadequate, citing poor hygiene, cramped conditions, unrelenting heat and a lack of facilities.
In November, the UN Committee against Torture scrutinised the treatment of asylum seekers by Australia at the offshore processing centres, as well as the detention of children and efforts to combat people smugglers.
In its final report it called on Australia to stop putting children and young families into detention except as a "measure of last resort".