Sydney academic Barry Spurr resigns over racist emails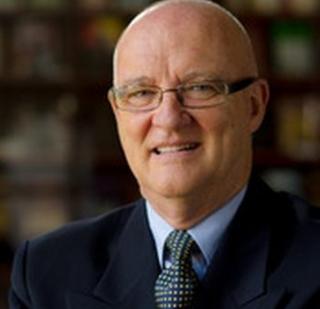 An Australian professor and government education advisor has resigned from the University of Sydney after a row over racist emails.
Barry Spurr was suspended by university officials in October after using offensive language in emails obtained by magazine New Matilda.
The emails were sent over two years and revealed that he referred to Muslims as "Mussies" and Asians as "Chinky-poos".
The poetry professor said the remarks were part of a "whimsical" game.
The university released a statement on Thursday morning saying that Prof Spurr had submitted his resignation and that it had been accepted.
"At Professor Spurr's request, the university will provide no further comment on this matter," the statement said.
According to News Matilda, the leaked emails had been sent to about a dozen people, including officials and academics at the university between September 2012 and late 2014.
"Deep concern"
They revealed that Prof Spurr had referred to Indigenous Australians as "human rubbish tips" and had called Australian Prime Minister Tony Abbott an "Abo-lover" - an offensive term for Aboriginal people.
He also referred to Nelson Mandela as a "darky" and said that the university's chancellor, Belinda Hutchinson, was an "appalling minx".
Prof Spurr had recently worked as a consultant on a review of the national English curriculum, calling on schools to teach less Aboriginal literature.
The editor of New Matilda, Chris Graham, told ABC News that he did not think the professor's resignation would force the government to revisit the review and that it should be a matter of "deep concern" for Australian parents.
Prof Spurr took the magazine website to court in October after it published the emails. The two sides reached a deal last week.
The academic does not deny sending the emails but told New Matilda that they were part of a "whimsical linguistic game".
He said the comments were not a reflection of his views, but were "repartee, mocking, in fact, that very kind of extreme language".
He insisted that he had always treated all of his students with "equity and dignity".
After suspending Prof Spurr two months ago, the University of Sydney said in a statement: "Racist, sexist or offensive language is not tolerated at the University of Sydney."
Education Minister Christopher Pyne said in October that although the emails were a matter for Prof Spurr that they were "repugnant".