Australians warned to avoid Bali due to terror fears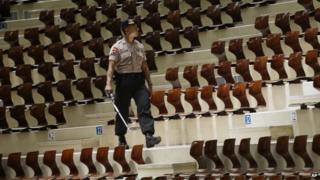 The Australian government on Monday warned Australians to exercise a high degree of caution in Indonesia, because of a "high threat of terrorist attack".
The advice followed a warning from the US government on 3 January of a potential threat against US-associated hotels and banks in Surabaya, Indonesia's second-largest city.
The government stopped short of warning people not to travel to Indonesia.
However attack there "could take place at any time", the government said.
"We continue to receive information that indicates that terrorists may be planning attacks in Indonesia, which could take place at any time," said a statement on the government's Smart Traveller website.
"You should also be aware of the severe penalties for narcotics offences, including the death penalty; some specific health risks; and risks associated with natural disasters," the statement said.
The government's "exercise a high degree of caution" warning is a step up from its "exercise normal safety precautions" warning but not as strong as "reconsider your need to travel" or "do not travel" warnings.
Worshippers 'a target'
Foreign Minister Julie Bishop said the threat of terrorist activity anywhere in the world remained.
Talking to journalists on Tuesday, she would not be drawn into directly commenting on how safe it was for Australians to travel to Bali, referring people to the Smart Traveller advice.
Asked if she would feel comfortable travelling to Bali she replied "Yes I would."
The Smart Traveller statement said gatherings at places of worship over Christmas and New Year had been targeted in the past, particularly in places like Poso and Solo, "and could be attacked again".
"Gatherings of Westerners over this period could also be appealing targets for terrorists. Terrorists have previously attacked or planned to attack such places, including nightclubs, bars, restaurants, international hotels, airports and places of worship in Bali, Jakarta and elsewhere in Indonesia. These types of venues could be attacked again," it said.
Two bombs ripped through the Kuta area of the tourist island of Bali on 12 October 2002, leaving 202 people dead. Among those killed at Paddy's Irish Bar and the nearby Sari Club were people from 21 countries, including 88 Australians, 38 Indonesians and 28 Britons.