South Australia faces heavy rain after bushfire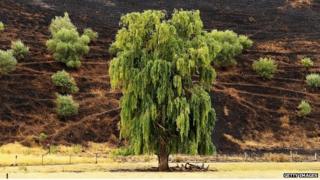 Emergency services in South Australia are preparing to deal with potential severe flooding, with the state facing its heaviest rainfall in three decades.
The Bureau of Meteorology (BoM) said up to 150mm (6in) of rain could fall in some parts between Friday and Sunday.
The wet weather will bring relief to firefighters who have been battling to control a bushfire in Adelaide Hills.
The fire, which has hit some 12,500 hectares (30,888 acres) over the past week, has destroyed several homes.
'Dramatic rainfall'
Craig Burke, a senior BoM forecaster, said the extreme dry period experienced by southern states at the end of 2014 was now coming to an end thanks to the influence of "tropical weather".
"We are in for two to three days of pretty dramatic rainfall for large parts of the country," he told Australian public broadcaster ABC.
He said some towns in South Australia are expected to receive about 15 times their average monthly rainfall in the next few days.
John Nairn, BoM regional director for South Australia, told the Adelaide Advertiser that January 1984 was "the last time we saw an event of this nature".
"There will be thunderstorms across the state over the next few days. None of the state will be missing out on rain," he added.
About 30mm of rain has already assisted fire crews in their efforts to extinguish the blaze, according to the South Australia Country Fire Service, but it warned that fires could still reignite.
Scores of people have needed hospital treatment because of the Adelaide Hills fire, which has burnt down nearly 30 homes and more than 100 outhouses.
South Australia Premier Jay Weatherill has pledged A$1m (£500,000; $800,000) in aid, while Prime Minister Tony Abbott said every family that had lost their home would receive a payment of A$1,000 per adult and A$400 per child.
Australia faces bushfires every year. In 1983, more than 70 people died in a fire in South Australia and Victoria which destroyed thousands of homes and buildings.
In 2009, the devastating "Black Saturday" wildfires killed 173 people and destroyed more than 2,000 homes in Victoria.
But environmentalists say global warming is making bushfires more frequent.
The BoM said last year was the third hottest since national records began in 1910, with mean temperatures 0.91C above the long-term average.