Queensland premier Newman suing radio host Alan Jones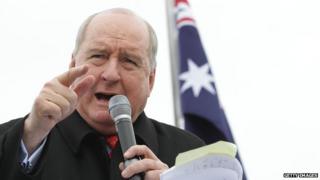 The premier of Australia's Queensland state is suing the influential conservative radio host, Alan Jones, for defamation.
The lawsuit lodged by Campbell Newman and his deputy accused Jones of making false comments on his radio show.
Jones told radio listeners on Friday that he was being sued over his remarks about the state government's approval of a mine expansion.
Mr Newman is fighting to be re-elected in state polls at the end of January.
Jones is one of Australia's most prominent broadcasters. His outspoken manner has often got him into trouble with politicians.
On his show on Brisbane's radio 4BC this month, he criticised Mr Newman for allowing the expansion of the Acland coal mine in Queensland.
The lawsuit filed by Mr Newman accuses Jones of several defamatory statements.
The lawsuit says this includes the statement that Mr Newman "lied" when he said he would not approve the coal mine.
The lawsuit also takes issue with a statement by Jones that implied that Mr Newman had "dishonestly approved" the mine because of a donation to his party.
Mr Newman told reporters on Friday that he and his deputy, Jeff Seeney, were suing Jones so he would have to justify his "completely untrue" statements in court.
On his radio show on Friday, Jones accused Mr Newman of being a "political novice" for believing that the lawsuit would help him win an election or "silence people".