Could media interviews taint Sydney siege inquest?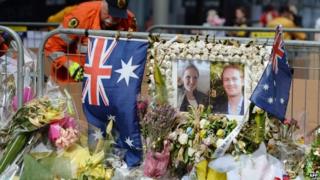 In an emotionally-charged promotional trail for Australia's 60 Minutes, bank worker Selina Win Pe's eyes fill with tears as she recounts the horror of being taken hostage in a Sydney cafe in December.
"I said, 'Please don't shoot me. Please, please don't shoot me. I only have my mum. Please don't shoot me,'" sobs Ms Win Pe in a short clip being used by the Nine television network to promote a series of paid interviews with survivors of the siege.
Rival network Seven is airing a similar promo for its exclusive siege interviews, promising details of what went on inside the cafe during the 17-hour siege that ended with the death of two of the 18 hostages and the gunman.
Barrister and mother of three Katrina Dawson, 38, and Lindt cafe manager Tori Johnson, 34, were killed during Sydney's Martin Place siege, along with 50-year-old gunman Man Haron Monis.
But ahead of an inquest into their deaths by the New South Wales (NSW) Coroner's Court that begins on Thursday, questions are being asked about whether the TV interviews - which the networks reportedly paid hundreds of thousands of dollars for - could taint witness statements.
'Not ideal'
Concurrently, a joint federal and NSW state government review is looking at why Monis - an Iranian refugee - was accepted into Australia in 1996, why he was eventually granted permanent residency and then citizenship, and why he was granted bail in 2013 after being charged as an accessory to the murder of his ex-wife.
The self-styled Muslim cleric had also been convicted of sending offensive letters to the families of Australian soldiers who died serving in Afghanistan. His website, now closed down, had hosted a series of videos supporting terrorism and blaming rape victims for their attacks.
NSW Police are also holding a critical incident investigation into the siege to establish how Monis and the two hostages died. Local media have quoted unnamed police sources saying Ms Dawson may have been killed by police bullets.
If Monis had not died and criminal proceedings against him were under way, canvassing of evidence from the siege survivors by the media would be deeply troubling, say legal experts.
But even when there are no criminal proceedings, any inconsistencies between accounts witnesses give to the media and those they give under cross-examination would be problematic, says University of Sydney Law Faculty Associate Professor David Rolph.
"My general view is that canvassing evidence of potential witnesses before an inquest starts, while it may not be illegal, is not ideal," Prof Rolph told the BBC.
"The fundamental problem [with this] is that the inquest may find it more difficult to get to the truth, which prejudices the course of justice," he says.
Prof Rolph says there are only a few cases in Australia of media being found in contempt of court for canvassing evidence from witnesses ahead of coronial inquests. And any such canvassing would be more of an issue for interviewees who might be implicated in a death, rather than with eyewitnesses, he says.
'Harrowing ordeal'
The TV networks are not expected to broadcast their interviews until next month but media watchers say the timing has more to do with the official TV ratings season that begins in February than with any concern about tainting the inquest.
A Nine spokesperson told the BBC it had been working closely with NSW Police to ensure the factual integrity of the stories.
"The survivors who are speaking to 60 Minutes have done so after finalising their police statements, and with the knowledge of police," said the spokesperson.
But former NSW Director of Public Prosecutions Nicholas Cowdery fears hostages who give so-called exclusive cash-for-comment deals may give colourful accounts to satisfy a TV audience, and then feel they have to stick to those stories in court even if their views have changed.
"There's a risk that [the hostages] will fill in gaps in their own direct knowledge so as to please the person who is paying for their account," Mr Cowdery told Fairfax Media.
Seven Network has said it does not want to "interfere with the conduct of a proper inquiry".
"But these are intensely personal stories which go beyond the witness box and it's a bit beyond the pale to accuse people of colouring accounts of what would have been an horrific and harrowing ordeal," a spokesperson told Fairfax Media.
A media spokesperson for the Department of Justice has confirmed that the State Coroner is monitoring all media coverage relating to the inquest.
The aim of Thursday's inquest will be to determine how the deaths occurred, the factors that contributed to them and whether they could have been prevented.
NSW Police Minister Stuart Ayres said the inquest would help people understand exactly what happened.
"Something as serious as the Sydney siege at the Lindt cafe requires this coronial inquest. It will allow us to get better at what we do," he said.
"But make no mistake about this, I am completely proud and very, very supportive of all the work that police have done throughout one of the most testing times for Sydney."