Australia on heatwave alert as temperatures set to soar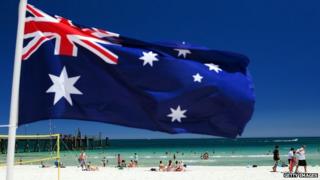 A heatwave is due to sweep Australia, experts warn, as emergency crews battle raging bushfires in the west.
Western Australia, the Northern Territory and parts of New South Wales and Victoria will see temperatures near or above 40C (104F).
It comes as Western Australia is already experiencing one of its worst seasons for bushfires.
Fire crews say the largest blaze near the town of Northcliffe is still raging but rain has helped contain the flames.
Smoke from the fires was reported to be blanketing the city of Perth on Friday.
The Australian Bureau of Meteorology said a very large and slow-moving mass of hot air currently over Western Australia was causing a build-up of heat.
"Severe heatwave conditions are forecast to spread to the east, with the Northern Territory seeing temperatures well above average over the weekend," it said.
Southern New South Wales and north-western Victoria are also likely to be affected.
Forecasters said that Marble Bar, in the Pilbara region of Western Australia, will not see temperatures fall below 43C over the next week, and warned of a high of 48C on Wednesday.
Meanwhile, emergency warnings are still in place for Northcliffe, Western Australia, and for another huge bushfire further north, near the town of Boddington.
Hundreds of firefighters have been brought in and the army is erecting tents for them in the nearby town of Manjimup.
Prime Minister Tony Abbott has promised government help to help tackle the fires.
The fire near Northcliffe has already consumed about 80,000 hectares (200,000 acres) of bush and has a perimeter of more than 220km (140 miles).
The fire had at one point threatened the coastal town of Windy Harbour, sending some residents fleeing to the beach.
Local media said overnight rain and favourable winds had helped to contain the fire just before it reached Northcliffe.
However, a wind change is expected to push it back towards the town.
Two homes and some outbuildings have been destroyed, reports said, but most residents have been evacuated to Pemberton.
Patients at Pemberton Hospital have been moved to other facilities in Manjimup, although its emergency department is staying open, the West Australian reported.
Northcliffe, Pemberton and Windy Harbour are part of the shire of Manjimup, which is a heavily forested region of Western Australia and prone to bushfires.
Further north, the bushfire near Boddington is sending smoke and ash over the nearby town of Collie and threatening the small town of Quindanning, reports said.
In another development on Friday, the electricity firm AusNet has reached a A$300m (£153m) settlement with survivors of a huge bushfire that destroyed the town of Marysville in Victoria in 2009.
Forty people were killed and hundreds of homes destroyed in the fire.
The claim alleged that the fire had been started by a break in an electrical conductor near the Murrindindi Saw Mill but the power company denied this. The no-fault settlement will need court approval.