Australia High Court backs Pakistani refugee in visa row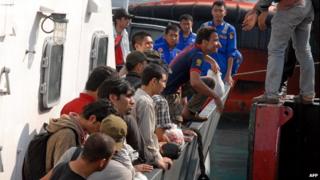 Australian judges have told ministers to grant a visa to a Pakistani refugee who arrived by boat in 2012.
The government argued it was against the national interest to grant him a visa because he arrived by boat.
But the High Court said in its decision that the government could not deny someone a visa solely because they arrived by boat.
The immigration department said it would comply with the decision, but insisted its policies would not change.
The wider implications for other cases "appear to be limited", the department said.
Australia and asylum
Asylum-seekers - many from Afghanistan, Sri Lanka, Iraq and Iran - travel in boats to Australia's Christmas Island by boat from Indonesia
The number of boats rose sharply in 2012 and early 2013; scores of people have died making the journey
Everyone who arrives is detained; those found to be refugees will be resettled in PNG, Nauru or Cambodia
Rights groups and the UN have accused Australia of shirking international obligations
Australia asylum: Why is it controversial?
For years, Australia has tried to stop refugees and asylum-seekers from arriving by boat.
One of the central goals of recent legislation has been to ensure such immigrants are never allowed to settle permanently in Australia.
It has done deals with Papua New Guinea and Cambodia to settle refugees there, and reintroduced temporary protection visas.
However, the Pakistani man arrived on Christmas Island in 2012, before the latest laws were in place.
He was given refugee status after arguing that he would suffer persecution if he was sent back to Pakistan because he was a member of the Hazara ethnic minority.
The government initially denied him a visa after capping the number of permanent protection visas it would issue in a single year.
The High Court overturned that decision last year and ordered the government to reconsider his application.
The immigration minister denied him a permanent visa for a second time because it would not serve the national interest to grant visas to those arriving by boat.
But the High Court said the decision was not made according to law.
"The minister could not refuse an application for a visa only because the applicant was an unauthorised maritime arrival," the judges said.