Philip Ruddock replaced as Australia government whip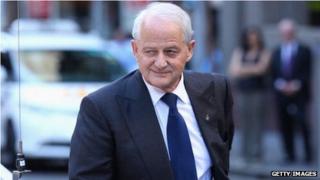 Philip Ruddock is to be replaced in his role as chief whip for the Australian government, Prime Minister Tony Abbott has announced.
It comes days after Mr Abbott narrowly survived a confidence vote among his Liberal MPs which could have removed him from office.
Mr Ruddock is Australia's longest-serving MP in parliament and has been chief whip since 2013.
Mr Abbott praised his "extraordinary contribution" to the country and party.
Mr Ruddock, who represents Berowra in New South Wales, has not commented other than to tell ABC News: "The position of whip is in the gift of the leader, and any advice about that position should come from him."
The move is widely seen as an attempt by Mr Abbott to rebuild support following his close-call on Monday.
A Liberal backbencher called for a leadership spill - a confidence vote - in Mr Abbott, but the motion was rejected by 61 votes to 39.
Questions have been raised about whether Mr Ruddock - who as whip was responsible for ensuring party loyalty to the prime minister - could have done more to protect Mr Abbott.
Mr Ruddock will be replaced by Scott Buchholz, an MP from Queensland.