Nanna's berry recall sparks Hepatitis A blood donor concern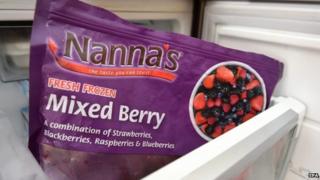 People who ate frozen berries linked to a Hepatitis A outbreak have been asked to contact the Australian Red Cross if they donated blood afterwards.
It said the measure was precautionary, adding that Hepatitis A was "rarely transmitted" via blood transfusions.
Patties Foods has recalled several frozen berry products after 10 people who ate them were diagnosed with Hepatitis A.
Raspberries packaged in China appear to be the common link, the company said.
Investigations by the company identified a specific supplier no longer used by Patties Foods.
The company apologised to consumers "for the concern and distress this is causing".
Health officials have warned that numbers could rise because the products are sold nationwide.
'Systematic failures'
An independent senator, Nick Xenophon, has called for a review of Australia's imported food safety regime.
"These berries were considered 'low risk' but failed the most basic of health checks - carrying a bacteria common in faecal matter," he said, quoted by ABC.
"This shows systemic failures in the way that imported foods are screened in this country."
News of the scare emerged on Saturday when health officials in Victoria said frozen berry products had been identified as the common link in four cases of Hepatitis A in two states.
Hepatitis A is a liver disease which can cause nausea and fever. It is commonly passed on when people ingest food or water contaminated by faeces from a person who has the virus.
Outbreaks linked to sewage-contaminated water can occur, but casual contact between people does not spread the virus, the World Health Organisation says.
There is no cure, but symptoms usually clear up in a couple of months.