Greyhound live baiting: Victoria board chairman quits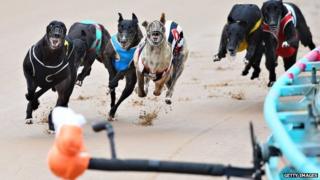 The chairman of Greyhound Racing Victoria has resigned amid a scandal over illegal live baiting in the industry in Australia.
Peter Caillard said he had made a "personal decision" to step down from the board.
An ABC Four Corners report last week showed live animals being chased and killed by dogs during training sessions.
Local media report that 15 trainers in Victoria have been suspended.
Mr Caillard called the practice "sickening" and "archaic" and said that it had been distressing to learn that it was still taking place.
"Had this practice been brought to my attention earlier, then it could have been stopped earlier. It was not and I did not," he said in a statement.
Mr Caillard added that despite assurances he could no longer be satisfied that live baiting was restricted to a small group of trainers in Victoria, as had been stated at the time.
He said that he believed that it was in the best interests of the industry for a new person to be appointed to his position. He had been on the board since 2012.
Failed system
The entire board of New South Wales Greyhound Racing stepped down on Thursday because of the crisis.
NSW Racing Minister Troy Grant said the revelations showed the current system of self regulation had failed.
He added that the government was committed to ensuring anyone caught "blooding" their dogs - using live bait - would be kicked out of the sport for life.
Greyhound authorities have suspended more than 20 trainers across three states after footage was filmed of greyhounds chasing and mauling to death piglets, rabbits and possums as part of their training regime.
Some of the video, filmed in NSW, Queensland and Victoria, showed struggling animals being flung around a mechanical lure before being torn apart by greyhounds. One possum was spun on the lure for almost an hour.
Live baiting is outlawed but some trainers believe it gives their dogs an advantage in races.
Several high profile sponsors have withdrawn their support in response to the report.