Australia 'Bali Nine' case: Brother pleads for mercy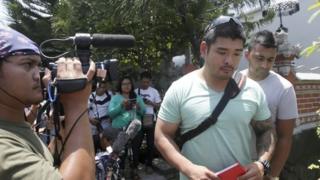 The brother of Andrew Chan, one of two Australian men sentenced to death in Indonesia, has pleaded for his brother's life on television.
Andrew Chan was sentenced to death in 2006 for his role in a drug trafficking group known as the Bali Nine.
Michael Chan addressed Indonesian President Joko Widodo directly, apologising for his brother's actions and pleading for clemency.
The executions by firing squad are believed to be imminent.
Mr Widodo has dismissed previous calls for the death sentences against Andrew Chan and fellow Australian Myuran Sukumaran to be commuted.
On Saturday, Mr Widodo said Indonesia's stance was "clear" on the pending executions, despite a suggestion by Australia's Prime Minister Tony Abbott that he was "carefully considering" his position.
Addressing Mr Widodo, Michael Chan told Indonesia's TV One: "We are very sorry for this situation and we apologise for Andrew. It has brought a lot of unnecessary shame to Indonesian people and the country."
Michael Chan said his brother and Sukumaran were "trying to keep hope" and wanted to continue their rehabilitation in Kerobokan prison on the island of Bali.
"All the painting, computer classes, rehabilitation around church services and all those things the boys have done in the last 10 years, they would like to keep doing that," he said.
Andrew Chan was ordained as a minister during his time in the prison and works in the prison chapel.
---
Who are the Bali Nine?
The eight men and one woman were arrested in April 2005 at an airport and hotel in Bali, Indonesia after a tip-off from Australian police. They were trying to carry 8.3kg (18lb) of heroin back to Australia
In 2006 a court ruled that Andrew Chan and Myuran Sukumaran had recruited the others and paid their costs. They were sentenced to death
The other seven are serving sentences of between 20 years and life, after some had death sentences revoked on appeal
Chan and Sukumaran have repeatedly appealed against their sentences and say they are reformed characters - Chan teaches Bible and cookery classes in prison while Sukumaran is an artist
---
Five minutes of the interview were broadcast, with Indonesian subtitles. An earlier 15-minute interview with the families of Chan and Sukumaran for Indonesian television was cut to just 45 seconds and not translated.
The death sentences have strained relations between Australia and Indonesia, which were only just recovering after being badly damaged by a spying row in 2013.
Australia has been working behind the scenes to save the men's lives.
But Mr Widodo dismissed Mr Abbott's suggestion he was reconsidering his position in an interview with Indonesian media on Friday, saying: "Our stance is clear. Our laws cannot be interfered [with]."
Earlier in the month, all of Australia's living former prime ministers made a united plea for Indonesia to spare the lives of Chan and Sukumaran.
Indonesia has some of the toughest drug laws in the world and ended a four-year moratorium on executions in 2013.