Challenge to Australian PM Abbott 'dying', says minister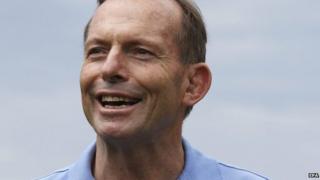 The leadership challenge to Australian Prime Minister Tony Abbott was "dying", a senior minister said as Mr Abbott's government received a poll boost.
Trade Minister Andrew Robb warned party colleagues behind the speculation to "pull their heads in".
A new Fairfax-Ipsos poll put Mr Abbott's coalition just behind Labor at 49-51 in two party-preferred terms.
The same poll in January saw the coalition at 46-54 behind the main opposition.
Last month Mr Abbott won a vote of no confidence - or "spill motion" - among coalition MPs by 61 to 39, but speculation over his leadership has continued.
'Spurious leaks'
Mr Robb criticised "unnamed" colleagues behind the challenges to Mr Abbott and said the prime minister should be "given some clear air".
"They've been putting out continued spurious leaks and other things to try and keep some momentum, but I think it's dying because the voters have spoken," he told ABC radio.
"These elusive unnamed colleagues have got a clear responsibility to the rest of the team and the country to pull their heads in."
He added: "There was a very clear intent to give some clear air to the prime minister - not two weeks but several months."
Mr Abbot, who was helping clean Killalea State Park in Shellharbour on Sunday as part of "Clean Australia Day", dismissed the ongoing leadership speculation as "recycled rubbish".
According to the Fairfax poll, the coalition's primary vote rose by four percentage points to 42%, while Labor's fell four percentage points to 36%.
Tony Abbott's personal approval rating, which reached a record low earlier in the month, also improved slightly to 32% in the Fairfax-Ipsos poll, which had a 2.6% margin of error.
But in polls for the preferred leader, he still lags significantly behind both communications minister Malcolm Turnbull and foreign minister Julie Bishop - with 39% preferring Mr Turnbull as leader and 26% Ms Bishop, compared to only 19% for Mr Abbott.