Can Sydney's Mardi Gras stay competitive?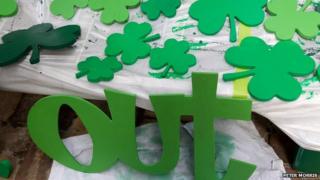 Emerald green is the colour of love among the Irish gay community in Sydney this week.
About 60 Irish expats will be marching in the Mardi Gras parade on Saturday alongside a float decorated with shamrocks, followed by a party featuring Dannii Minogue.
"Mardi Gras is like gay Christmas," says Rory Nee, a doctor originally from Wexford in Ireland, now an Australian citizen living in Sydney.
"In parts of the world you can be killed for being gay, but here we are embraced. No-one blinks an eye."
Eric de Courcey, a lab technician originally from Waterford in Ireland, says the Mardi Gras parade, which started as a protest march in 1978, is still politically relevant.
"Back in the 70s it used to be about getting gay across to the mainstream. Now it's about all the different types of gay," he says.
"There is a whole range of sexualities out there and we want to educate people about that and celebrate it. But for me, it's a real kick to be in the Irish float.
"It's not often I get to feel proud of being Irish and gay at the same time."
Diverse audience
Sydney's Gay and Lesbian Mardi Gras parade attracts more than 25,000 interstate and overseas visitors each year, generating around A$30m (£15m; $24m) for the local economy.
But after recording a loss of almost A$180,000 in 2014 and a wafer-thin profit in 2013, Mardi Gras is questioning not only its business model but also its continuing relevance to the city it has done so much to promote worldwide.
Everything is up for consideration, says Mardi Gras chief executive Michael Rolik - even the traditional route of the parade, which has wound its way through the streets of Darlinghurst, Sydney's gay heartland, since its inception in 1978.
"We're going through a transformation programme," says Mr Rolik. "For 2018 we are looking at changing the parade route to end in the new Darling Harbour precinct. But that requires a lot of community consultation, obviously."
Mardi Gras has "solid" financial reserves, says Mr Rolik, but the challenge is to make the event sustainable in a city whose festival calendar is becoming increasingly crowded.
"Sydney is a great events city, particularly with music and arts festivals, and they are direct competitors for a large segment of our audience," he says.
Mr Rolik says that the parade's audience is diverse - about 80% are not part of the gay community.
At the parade's end, he says, there is no incentive at present for them to stick around, party and spend money - hence the idea of moving the route so that the finish line is in what will be the newly renovated Darling Harbour.
"At the moment, they just have to wander off to bars and clubs and we've lost them," he says. "But if we can create a diverse, carnival-atmosphere event, that will be of huge benefit to everyone."
All such ideas will have to go to the communities at the heart of the parade for discussion and consultation, Mr Rolik says. "At the end of the day it has to be something they believe in."
'Celebrate without fear'
Mardi Gras veteran Ron Muncaster says the event has changed almost beyond recognition since its early days.
"We had a lot to fight for in the beginning but now we have been accepted," says the 78-year-old, who moved to Sydney in 1963 from Oldham, Lancashire.
"The parade has helped a lot of people come out. It broke down homophobia when people could see us on television in our fabulous costumes. It helped bridge the gap between them and us. But now it is so different. Not so many people want to dress up any more."
Mr Muncaster, whose flamboyant costumes have been in exhibitions at the Powerhouse Museum in Sydney, the National Gallery and the National Museum of Australia in Canberra, says most of the people who made elaborate costumes in the heyday of the 1990s are now dead or "don't bother any more".
In the early and mid-1990s, the Mardi Gras Parade attracted more than 700,000 visitors. This year, they are expecting a crowd of about 200,000, with another 10,000 participating in the parade with 140 floats.
Mr Rolik says the strength of the Australian dollar has a negative impact on the financial security of Mardi Gras.
"When you look long-term, you see there's an inverse correlation between the strength of the Aussie dollar and our financial results. We get an extra 10,000 people per year coming to our event when the dollar is at the 75-80 US cents level compared with the recent near parity.
The recent sharp fall in the Australian dollar could be a positive, Mr Rolik says. "We won't see the effects of that until next year but we are expecting a lift."
Mardi Gras is also looking to expand its profile in South East Asia and China, Mr Rolik says. While the majority of overseas visitors hail from the United States, New Zealand and Europe, South East Asia - especially Singapore and Hong Kong - is the highest growth market, Mr Rolik says.
"Sydney is very appealing to those gay and lesbian communities. Mardi Gras is a great place to celebrate who they are without any fear of recrimination, or crime or even jail, which is the unfortunate case in some countries."