Australian surgeon Gabrielle McMullin stands by harassment remark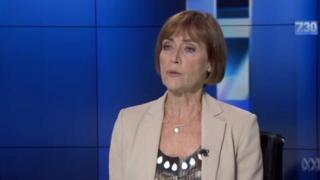 A senior Australian surgeon has stood by widely-criticised remarks suggesting women in the profession should "comply with requests" for sex from male superiors to further their careers.
Vascular surgeon Dr Gabrielle McMullin made the remarks after launching a book she has co-authored on gender equality.
Dr McMullin said on Monday she stood by the statement, despite heavy criticism from women's rights groups.
Her comments last week concerned the 2008 case of a trainee surgeon.
Dr Caroline Tan was a surgical student at a Melbourne hospital when she won a sexual harassment suit against a superior.
But, Dr McMullin claimed, Dr Tan had been "blackballed" as a result and had not been able to get work at a hospital since.
"Her career was ruined by this one guy asking for sex on this night," Dr McMullin said in the ABC interview after her book launch.
"What I tell my trainees is that, if you are approached for sex, probably the safest thing to do in terms of your career is to comply with the request.
"The worst thing you can possibly do is to complain to the supervising body because then, as in Caroline's position, you can be sure that you will never be appointed to a major public hospital."
Speaking to ABC News on Monday, Dr McMullin reiterated her remarks and claimed she had been thanked by both men and women for raising the issue.
Her comments have been widely criticised by both fellow medical professionals and women's rights groups.
'Deeply insulting'
Michael Grigg, President of the Royal Australasian College of Surgeons (RACS), said the idea female surgical trainees should "silently endure sexual harassment" was "disappointing and quite appalling".
"The College of Surgeons refutes this advice emphatically. The inference is that this is what successful female surgeons and trainees have done in the past and this is deeply insulting."
Dr Grigg said complaints about sexual harassment were "taken seriously" by the college and "investigated and acted upon at the highest level".
Kate Drummond, chair of the RASC's Women in Surgery committee, told ABC that sexual harassment "does happen", but she said the idea that speaking out is a career-ending move is "incorrect".