Australia's Queensland and Northern Territory brace for cyclones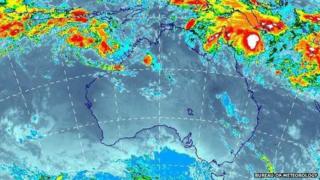 Residents in parts of Western Australia and Queensland have been warned to prepare for stormy weather as two cyclones develop offshore.
Forecasters say a low-pressure system off Western Australia could cause hurricane force winds along parts of the coast at the end of the week.
Another system off the coast of northern Queensland is expected to bring gale force winds late on Tuesday.
Parts of Queensland are recovering still from a severe cyclone last month.
Jess Carey, a spokesperson for Australia's Bureau of Meteorology (BOM), told the BBC that there was a "high" chance the Queensland system would develop into a cyclone within 24 hours.
"We've seen quite significant development overnight, sooner than we expected," he said.
Destructive winds
Carey said parts of the Queensland coast between Cooktown and Cairns were already experiencing strong wings, with gale force winds of 125-130km/h (78-82mph) expected on Wednesday.
Destructive winds over the next few days had not been ruled out, he said, with new models predicting the cyclone could develop from a category one to a category two level.
The system off the coast of Western Australia is likely to reach tropical cyclone intensity by late Wednesday or early Thursday, said Andrew Burton, senior tropical cyclone forecaster for the BOM.
Mr Burton said there was a "distinct possibility" that the system would develop more than expected over the ocean, hitting the Pilbara coast on Friday instead with hurricane force winds of 165km/h (104mph) or more.
'Living in tents'
Residents were evacuated in parts of Queensland in February after the category four Cyclone Marcia hit the coast between Yeppoon and St Lawrence.
Tens of thousands of homes in the area were left without power and many were damaged, with residents forced to evacuate.
Separately, Tropical Cyclone Lam hit a remote area of the Northern Territory, also in February.
The Northern Territory Government said on Monday it had "sent highly capable contractor teams as a priority to the three communities most affected by Cyclone Lam".