Cousin of 'Bali Nine' smuggler will not 'give up hope'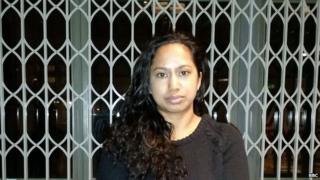 The British cousin of an Australian man facing execution by firing squad in Indonesia says she is refusing to give up hope of ever seeing him alive again.
Myuran Sukumaran was sentenced to death in 2006 as a ringleader of the so-called Bali Nine smuggling gang.
Niranjela Karunatilake, a London-based producer, last saw her cousin in a Bali prison a fortnight ago.
"We all just want him to be alive," Ms Karunatilake said. "Even if he has to be in prison, that's fine."
Sukumaran and fellow Australian Andrew Chan were caught attempting to smuggle 8.3kg (18lb) of heroin from Indonesia to Australia in 2005.
The pair have been denied clemency by Indonesia despite repeated appeals by Australia, and were moved to a prison island earlier this month where they are due to be executed by firing squad.
"He doesn't want his family to be sad for him, he doesn't want to see us cry," Ms Karunatilake told the BBC.
"He even jokes about his death sentence but you know he's feeling it, you can see it in his eyes."
'Death isn't the answer'
Relatives of Sukumaran, who was born in London before moving to Australia at an early age, claim he has been rehabilitated while in prison, obtaining a degree in fine art and even helping in the reformation of other prisoners.
"None of us are saying that he shouldn't be punished for what he did but death just isn't the answer," said Ms Karunatilake.
"There's no proof that the death sentence deters this type of criminal offence, there are other ways."
There has been international outrage at the planned executions and the case has soured relations between Indonesia and Australia.
Virgin Group founder Richard Branson is among a number of influential figures who have appealed to the Indonesian president to grant clemency.
"The support from around the world has been overwhelming; the candlelight vigils in Australia and people trying to help, it's been touching and continues to give us belief," Ms Karunatilake said.
The Australian government has unsuccessfully petitioned the Indonesian authorities to commute Sukumaran and Chan's sentences, including offers to cover the cost of life imprisonment for the pair and repatriate three Indonesian drug convicts in a prisoner swap - both of which were rejected.
Indonesia has adopted a hard line on convicted dealers in the past, refusing to cancel death sentences.
The country's president, Joko Widodo, has always insisted he will show no mercy towards drug criminals, saying they have ruined lives.
Ms Karunatilake continues to hold out hope that a deal between the Australian and Indonesian authorities can be struck in the coming days.
She says her cousin made an error of judgement and that the positive impact prison has had on Sukumaran only serves to make the situation harder to deal with.
"When you're that young, sometimes you think you're invincible and you get sucked in, you're quite impressionable. But that doesn't mean you can't change your ways," she said.
"The person Myuran's changed into, it'd be such a shame for the world and for Indonesia to lose a person like that."
---
Who are the Bali Nine?
The eight men and one woman were arrested in April 2005 at an airport and hotel in Bali, Indonesia after a tip-off from Australian police. They were trying to carry 8.3kg (18lb) of heroin back to Australia
In 2006 a court ruled that Andrew Chan and Myuran Sukumaran had recruited the others and paid their costs. They were sentenced to death
The other seven are serving sentences of between 20 years and life, after some had death sentences revoked on appeal
Chan and Sukumaran have repeatedly appealed against their sentences and say they are reformed characters - Chan teaches Bible and cookery classes in prison while Sukumaran is an artist