Australian senate defeats education bill for second time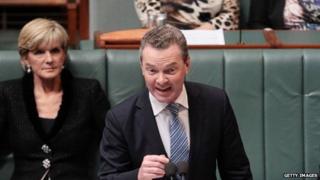 An Australian government bill which would allow universities to set their own undergraduate fees has failed in the senate for a second time.
The legislation, defeated by 34 to 30, was an amended version of a bill blocked by the senate in December.
The amended bill dropped a proposal to cut university funding by 20% but kept proposals to deregulate fees.
Education Minister Christopher Pyne said on Tuesday that he would not give up plans for deregulation.
Mr Pyne's proposals would see the biggest reform of the education sector in Australia since the introduction of higher education fees 25 years ago.
He vowed to make a third attempt time to pass the bill in some form.
"I am not prepared to let these reforms be drowned out by distractions," he said in a statement.
The defeat is a blow for the government of Prime Minister Tony Abbott, who survived a leadership challenge in February and has faced criticism from backbenchers.
"We will have another go at this," Mr Abbott told Sydney radio station 2SM on Wednesday.
"Just about all the vice-chancellors say if our universities are to flourish in the years ahead, they need to lose the dead hand of Canberra."
'Impossible to turn it off'
The bill needed six votes from the cross-bench MPs independent of the Abbott Coalition or Labour opposition, but could muster only three.
Glenn Lazarus, an independent senator, voted against the bill, telling the senate: "Once the deregulation switch is turned on, it will be impossible to turn it off."
Universities Australia, which represents Australia's 41 universities and has previously backed the proposed reforms, criticised the failure of the bill.
Chief Executive Belinda Robinson said: "With global competition intensifying, Australia can't afford to be left behind. Unfortunately, if our universities continue to be sidelined."
Students who attend Australian universities are obliged to pay fees set by the government, with loans and subsidies available to relieve the costs for some.
The initial version of the bill, which failed in December, proposed a A$1.9bn (£900m; $1.4bn) in cuts to course subsidies that was later dropped.
The proposals sparked protests from Australian students.
The government was criticised before the vote by cross-benchers and top scientific research organisations over a threat to scrap A$150m in funding for research infrastructure if the bill was blocked.
Mr Pyne said after the bill's second failure that the government would "remove the distraction and guarantee funding for the National Collaborative Research Infrastructure Strategy for a further twelve months".