Sydney siege Lindt cafe reopens to crowds of customers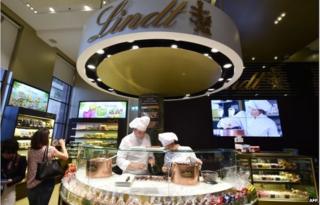 A cafe in Sydney where two people died in a 17-hour siege in December has reopened with commemorative plaques.
Gunman Man Haron Monis took 18 people hostage in the Lindt cafe in Martin Place in the central business district.
Police stormed the cafe, but hostages Tori Johnson, 34, and Katrina Dawson, 38, were killed, along with Monis.
The reopening was attended by Prime Minister Tony Abbott and New South Wales Premier Mike Baird, and attracted dozens of supportive customers.
Mr Abbott bought a drink and spoke to staff and members of the public, reported News Limited.
He told reporters that the reopening sent a clear message to attackers that "you might occasionally frighten us, but you'll never change the way we live".
Mr Baird said Friday was an important day for Sydney because "actions that came to cause hate and division actually brought peace and unity. The city was tested, it was challenged but today is a strong reminder that we march forward."
He also praised cafe worker Joel Herat as someone whom "the city was very proud of". Mr Herat was held hostage during the siege and went back to work at the cafe on Friday.
Customer Elizabeth Gunning told the Sydney Morning Herald: "I think it's important to show, as Australians, we can all come together and still respect and remember what happened but also move forward together."
Steve Loane, chief executive of Lindt Australia, said earlier this week that reopening was "the best thing to do".
"After the tragic events that happened in December we discussed this reopening with our staff and gave a lot of thought to next steps," he said.
"Overwhelmingly, the feeling was that reopening and moving forward is the best thing to do for everyone affected."
Permanent plaques have been installed inside the cafe in memory of Mr Johnson, the cafe's manager, and Ms Dawson, a barrister.
"This has been an extremely difficult period for so many people impacted by those tragic events," said Mr Loane.
The cafe has been renovated to repair the damage caused by the siege.
Monis was known to police. He received political asylum in Australia in 1996 and was on bail facing a number of charges when he attacked the cafe.