Tropical Cyclone Nathan hits Australia's Queensland coast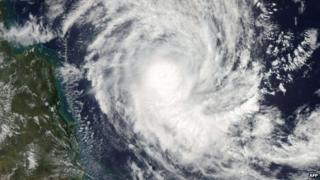 A tropical cyclone has hit north Queensland in Australia, bringing with it hurricane-force winds and a powerful storm tide.
Cyclone Nathan crossed the coast near Cooktown as a category four storm, the second most severe rating.
Winds of 170km/ph (105mph) were recorded on Friday morning, the Bureau of Meteorology told the BBC.
The cyclone is expected to dissipate over land before intensifying again over the Gulf of Carpenteria.
About 50 people took cover in Cooktown's cyclone shelter as the storm passed over, according to the Australian Associated Press.
The strongest winds recorded on Friday were 170km/ph but there was the potential for winds of up to 230km/ph closer to the centre of the system, The Bureau of Meteorology's Jess Carey said.
It still had the potential to cause "significant damage", he added.
The cyclone was expected to move inland towards Laura and Kalinga on Friday, dissipating to a category one level on the way.
Queensland Premier Annastacia Palaszczuk said there had been no casualties recorded in Cooktown.
"Once again we've shown how resilient our communities can be and we are very thankful that Cyclone Nathan did cross to that northern section," she said.
"We were very concerned yesterday that it could swing further down south and have a huge impact on those local communities.
"The Queensland Disaster Management Group will be meeting at 10am this morning. By that time we should have some indication of the impacts of Cyclone Nathan in relation to that region."
Queensland State Emergency Services were continuing to advise residents to stay indoors on Friday morning.
The cyclone comes less than a month after northern Queensland was struck by another powerful cyclone.
In February, Cyclone Marcia hit the Queensland coast with winds up to 285km/h - the sixth category five cyclone recorded in Australia.
Another cyclone struck the nearby Pacific islands of Vanuatu over the weekend, killing at least 11 people and leaving thousands homeless.