Australia 'repatriates Vietnamese asylum seekers'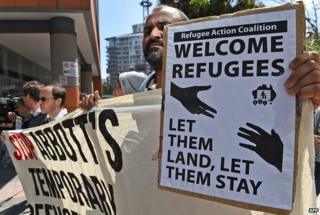 Australia is repatriating up to 50 Vietnamese asylum seekers who had arrived by boat, local media report.
The HMAS Choules is said to be hours away from Vietnam's Ho Chi Minh City and is headed to the port of Vung Tau, said Fairfax Media.
The West Australian said the group were first intercepted at sea north of Australia, and some members face persecution in Vietnam.
Australia's tough asylum policies have been criticised by rights groups.
The government has yet to provide an official comment on the reports. The operation is said to be costing the government at least A$1.4m ($1.09m, £728,100).
Last year, Australia attempted to return 157 asylum seekers who had sailed from Sri Lanka. They were eventually placed on Nauru island.
Australia and asylum
Asylum seekers - mainly from Afghanistan, Sri Lanka, Iraq and Iran - travel to Australia's Christmas Island by boat from Indonesia
The number of boats rose sharply in 2012 and early 2013. Scores of people have died making the journey
To stop the influx, the government has adopted hard-line measures intended as a deterrent
Everyone who arrives is detained. Under a new policy, they are processed in Nauru and Papua New Guinea. Those found to be refugees will be resettled in PNG, Nauru or Cambodia
Tony Abbott's government has also adopted a policy of tow-backs, or turning boats around
Rights groups and the UN have voiced serious concerns about the policies and accuse Australia of shirking international obligations
Australia asylum: Why is it controversial?