Australia and New Zealand mark Gallipoli centenary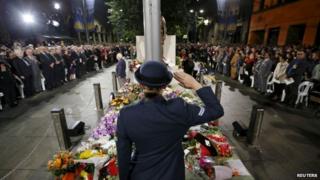 Australia and New Zealand have marked the centenary of dawn landings at Gallipoli with memorial services.
Events in Canberra, Sydney, Brisbane and Melbourne were attended by thousands of people, as were similar events in New Zealand including a big ceremony in Wellington.
Anzac (Australian and New Zealand Army Corps) Day is the biggest date in the military calendar of both countries.
Anzac forces lost more 11,400 soldiers in the Gallipoli campaign.
About 131,000 troops - 45,000 Allied forces and 86,000 from Turkey - died at Gallipoli.
Australian Prime Minister Tony Abbott will travel to the site of the landings in Turkey for a memorial on Saturday.
Mr Abbott described Gallipoli as "a magnificent defeat" because of the courage, tenacity, selflessness, duty and service exhibited by Australian troops.
"We discovered a great deal about ourselves, he said, "and we discovered a great deal about our Turkish foes - they were honourable foes - that is why there's been a friendship from that day to this.
"We should remember Gallipoli but we should also remember the terrible victory of the Western Front which Australia played such a significant part," he said.
Mr Abbott will be joined by the leaders of New Zealand and Turkey as well as Prince Charles and Prince Harry for Saturday's commemorations.
Anzac Day falls on the day of the first landings at Gallipoli by Australian and New Zealand forces. It is the day the two countries remember all their war dead.
Sydney staged its memorial at the Cenotaph in Martin Place, where large screens were erected for those who could not attend the service.
'They were loved'
In Canberra, images from the Gallipoli campaign were projected on the front of the war memorial building from Friday evening.
The service in the capital featured readings from war diaries and letters. Readings told the story of Turkish leader Mustafa Kemal Ataturk, who led the successful defence of Gallipoli, and Private John Edward Barclay, killed in action on Gallipoli on 21 June 1915.
Australia's Chief of Army, David Morrison, said: "They loved and were loved in return, were prepared to fight for their beliefs, were, like us, prey to fears and human despair.
"It makes their sacrifice and their capacity to endure real despite the passage of time."
In New Zealand, more than 20,000 people attended a service at the war memorial in Wellington, where Governor-General Jerry Mateparae was accompanied by Australian counterpart Peter Cosgrove.
Thousands of Australians have travelled to Turkey for a series of memorial events near to the site of the landings on Saturday morning.
Many see the bloodshed at Gallipoli as the founding moment for both former British colonies, who were both eager at the time to establish their national identities.
Allied forces landed on the Gallipoli peninsula in modern-day western Turkey - then part of the Ottoman Empire - in April 1915.
The invasion failed, with the Allied forces unable to advance more than a few miles inland.
A bloody stalemate ensued which lasted until Allied troops evacuated the peninsula eight months later in January 1916.
What was Gallipoli?
The Gallipoli campaign
350,000 British troops, 25,000 died

79,000 French troops, 10,000 died

74,000 Anzac troops, 10,000 died

400,000 Turkish troops, 86,000 died
Getty Images
After a failed naval attack, the Allies tried to capture Constantinople (now Istanbul) via the Gallipoli Peninsula by land assault
The amphibious assault started at dawn on 25 April 1915
British, French and their dominions' troops - including soldiers from Australia, New Zealand, India and Newfoundland - took part
They faced months of shelling, sniper fire and dysentery, before abandoning the campaign
About 45,000 Allied troops died for no material gain, although the Turkish Army was tied down for eight months
About 86,000 Turkish troops died. Commander Mustafa Kemal survived and went on to found modern Turkey
Why Gallipoli is still commemorated in Australia and New Zealand on Anzac Day
World War One's forgotten Anzacs: The Indigenous Army