Hundreds of Australians missing after Nepal earthquake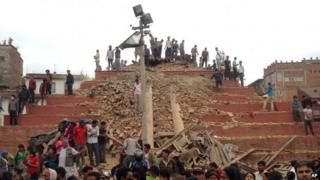 At least one Australian has been killed in the Nepal earthquake, with 349 others are still unaccounted for in the region, media reports say.
The Australian embassy in Nepal has been able to contact 200 of the 549 registered Australians in the area.
Prime Minister Tony Abbott said the relatives should not "assume the worst", as the information was coming in slowly from Nepal's remote regions.
The Australian that reportedly died was at the Mount Everest' base camp.
An expedition leader for the Dreamers' Destination Treks and Expeditions tour company told reporters he had lost four members of his group, including an Australian, according to the Sydney Morning Herald.
"Australians do go trekking in that part of the world and because someone is trekking in that part of the world we shouldn't assume the worst," Mr Abbott said.
"Yes, there are Australians who are unaccounted for, and people whose family members, friends or loved ones are known to be in Nepal and northern India should at first do their best to make contact with them."
He also urged Australian nationals to get in touch with the Australian foreign ministry via a consular phone line.
In a separate development, Australia has pledged A$5m ($3.9m; £2.6m) in aid to Nepal.
Some 2,500 people have been killed after the 7.8-magnitude quake struck an area of central Nepal between Kathmandu and the city of Pokhara early on Saturday.
Hundreds of thousands of people in central Nepal are reportedly spending a second night outdoors.