Police conduct anti-terror raid in Melbourne suburb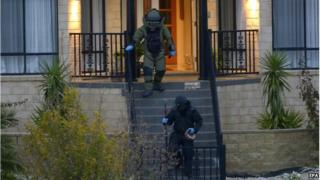 Australian police have conducted anti-terror raids in a northern suburb of Melbourne, report local media.
Residents reported hearing gunshots and a large part of the street in Greenvale was blocked off during the operation.
Officers with assault rifles and in bomb disposal suits were seen entering one house and searching it.
Australia has been on heightened alert for terrorist activity and has conducted several anti-terror raids in recent months.
Authorities arrested five men last month, also in Melbourne, for allegedly planning an attack on an Anzac Day ceremony.
Last September saw the country's biggest counter-terrorism operation, with more than 800 officers raiding homes in Sydney, and detaining 15 people.