Australia budget prompts early election speculation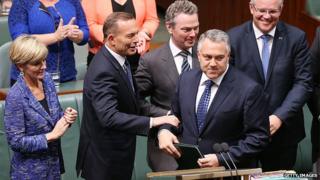 Australia's opposition parties are preparing for a possible early election in the wake of the stimulatory budget.
However, the government has denied it delivered a generous budget in a bid to win the public's approval.
The budget delivered on Tuesday night put money in the pocket of most Australians.
It stands in stark contrast to the government's 2014 debut budget, which slashed government spending and saw the government's popularity sink.
Prime Minister Tony Abbott on Wednesday denied speculation now circulating among his own MPs that he would call an election later this year.
'Political fix'
The coalition won power in September 2013 and under Australia's electoral rules, another election would be called in the second half of 2016.
Mr Abbott said his government "always planned to run full term".
"That is what the people of Australia elected us to do," he told local media.
"To govern the country as best we could, to deliver on our commitments as best we could, for a full three years," he said.
Opposition Labor leader Bill Shorten tweeted that the budget was a "political fix" to save Mr Abbott's job, and said the Labor Party was ready for an early election.
He has said his party would vote against savings measures intended to pay for some of the benefits offered by the budget to families.
'Rubbery figures'
Independent senator Nick Xenophon agreed, and cast doubt on the government's ability to deliver everything it promised in the new budget.
"There's no way we will get there, they are rubbery figures," Mr Xenophon said of the budget estimates.
"I think they're trying to repair their traditional supporter base and I think the government is keeping its options open for an election later this year," he told the ABC.
Newly-elected Greens leader Richard di Natale said his team was ready for an early election.
"I say to [Treasurer] Joe Hockey, bring it on any time," he said.
The budget outlined a savings and expenditure programme the government said would reduce the budget deficit from an actual deficit of A$41.1bn ($33bn, £21bn) in the 2014-2015 financial year, to an estimated A$7bn by 2018-19.
Among other things, the budget increased childcare subsidies to many parents, reversed earlier plans to slow the growth in pension payments, and dumped a proposal to make young people wait six months before they could receive unemployment benefits.
It also launched a A$5.5bn package to support small business, which included cutting the tax on small business profits to 28.5% from 30%.
Consumer group CHOICE said some consumers would be better off but others would be hit hard.
"The changes announced are complex and will affect different households in very different ways," said CHOICE Chief executive officer Alan Kirkland.
The Australian Council of Social Services (ACOSS) was pleased some of last year's "divisive and unfair" budget had been dropped.
"The pension changes, youth employment strategy and higher investment in child care show the way forward and are a welcome change of direction, reducing the budget deficit without creating a fairness deficit," said ACOSS chief executive officer Cassandra Goldie.