Australia train transporting sulphuric acid derails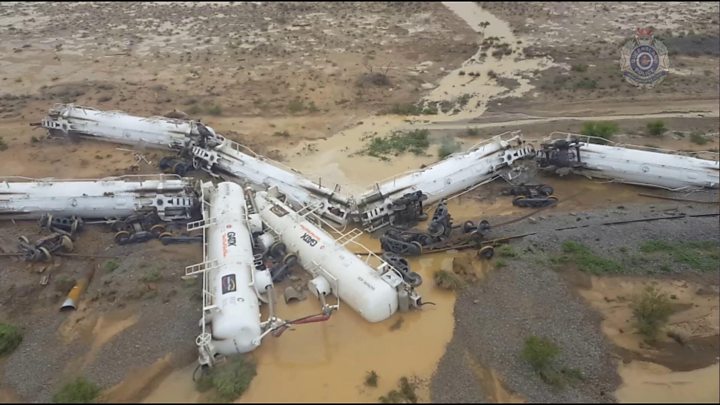 An exclusion zone is in place after a 26-carriage freight train carrying some 200,000 litres (44,000 gallons) of sulphuric acid derailed in Australia.
The accident happened on Sunday morning, 20km (12.4 miles) east of Julia Creek, in north-west Queensland.
Three train staff sustained minor injuries in the crash. The site was quickly declared an emergency and a 2km exclusion zone was imposed.
The extent of any acid leakage remains unclear, says Queensland Police.
Inspector Trevor Kidd said: "You have to take into account it's remote, it's impacted heavily by weather, access is quite difficult, and these are the challenges the responders are facing at the moment."
He added that the remote location of the crash would hopefully limit damage.
"It is some significant distance from major waterways and any major infrastructure, so we do have something going our way as far as that goes, but it is certainly challenging to make an effective assessment at this stage," he told ABC News.
The area has also been affected by flooding, which has hampered access to the site. A spokesperson for Queensland Rail, which operates the service, said that the flooding had prevented its own staff from reaching the site.
The cause of the accident is not yet known.
Sulphuric acid is a highly corrosive substance that can cause severe burns on contact with skin.