Sydney man charged with murder over restaurant date stabbing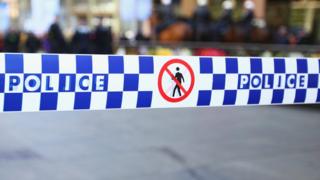 A man has been charged with murder and attempted murder after a woman and the man she was on a date with were stabbed at a restaurant in Sydney, Australia.
The attack happened just before 21:30 local time (11:30GMT) on Wednesday in the Westfield Hornsby shopping centre.
The woman, 39, was injured and taken to hospital, but the 53-year-old man died at the scene.
The alleged attacker, 44, had previously been in a relationship with the woman, said media reports.
Witnesses said that after stabbing the couple in a Korean restaurant the alleged killer paced "calmly" around the shopping centre covered in blood.
Police arrived about 15 minutes after the attack and arrested him with their Tasers drawn.
The weapon was described as "a massive hunting knife" by one witness to the Sydney Morning Herald, but another said it was a bottle.
The woman suffered stab wounds to her chest and cuts to her arm, police said. The man was reportedly stabbed in the neck and the stomach.
Police have not confirmed the relationships between the three nor the weapon used.
The man was refused bail in his first court appearance.