Australian children sick after mistaking fire colourant for sweets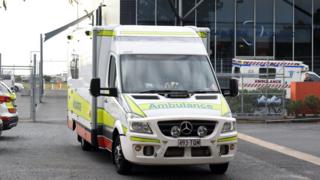 Around 25 school children in Queensland, Australia have fallen ill after eating a chemical fire colourant they believed to be sweets.
Paramedics were called after the Year Four children, aged around nine to ten, at a primary school complained of nausea and burning in their throats.
Four children were taken to hospital and the others sent home.
The substance, confirmed to be Mystical Fire, is thrown on fires to create multi-coloured flames.
It contains copper sulphate and copper chloride, and adds rainbow colours to flames. It is sold online and in camping stores.
'Fell down shaking'
Authorities at the Deception Bay North state school, north of Brisbane, are investigating how the substance got in and why it was eaten.
A parent told the Courier Mail an older student had offered the chemicals, described as looking like "white popping candy", to another child outside of class.
Their 10-year-old child said the candy was in a sandwich bag and had "no packet or label".
"He said he saw a friend have it and they fell down shaking," the parent told the paper.
The children are expected to make a complete recovery.
"They'll be fine, it was only taken in small quantities," Peter Batt of Queensland Ambulance Service told the Australian Broadcasting Corp (ABC).
"The most serious [effects] we can expect is vomiting and upset tummies."
A Queensland Department of Education spokesman said the school followed the correct procedure in calling paramedics.
"The safety and welfare of students and staff is always the school's highest priority," the department said in a statement.
"The Principal is investigating the cause of the incident and if necessary, will take appropriate disciplinary action."