Don Burke: Australian TV presenter denies sexual harassment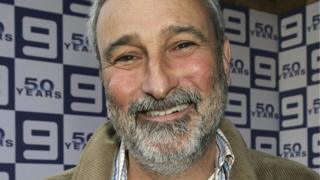 A high-profile former television host in Australia has denied allegations that he sexually harassed women during the height of his fame.
The allegations against Don Burke concern a period in the 1980s and 1990s when he presented a top-rating local gardening programme, Burke's Backyard.
Australian media outlets said "a number of women" have made claims. One said Mr Burke grabbed her breast, while another accused him of trying to undress her.
Mr Burke called the claims "baseless".
The allegations, published by the Australian Broadcasting Corp and Fairfax Media on Monday, included claims that Mr Burke once asked an actress to audition topless for his show.
Another woman, former programme researcher Louise Langdon, said Mr Burke once tried to remove her shirt during a work trip.
"He decided that it was OK for him to put his hands on my T-shirt and try and pull my bra strap, my bra off - and try to somehow remove my clothing. He was trying to take my top off," she said.
In a statement, Mr Burke said the allegations were made by former employees who "bear grudges against me".
He described the claims as opportunistic attempts to link him to "the appalling behaviour of Harvey Weinstein", the Hollywood film producer who has denied allegations of sexual assault.
The most serious allegations against Mr Burke are of indecent assault.
Mr Burke became a household name in Australia with his programme, which was broadcast on the Nine Network for almost 17 years.
One former Nine executive, Peter Meakin, told the ABC and Fairfax Media that he never received complaints about Mr Burke. Another, David Leckie, said he was not surprised by the allegations.