Whitewater rafters in Austria 'found' after river spill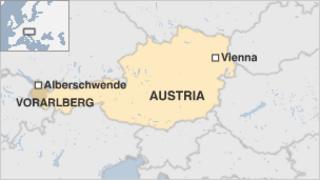 All the whitewater rafters missing after an accident on an Austrian river have now been found, the Red Cross says.
Eight boats on the Bregenzerache river in Vorarlberg province overturned when they hit turbulent waters around midday local time (1100 GMT).
Fifteen of the 25 rafters who fell in the water were immediately rescued.
The other 10 have now been accounted for, although some are stranded on riverbanks not accessible by vehicle.
Around 30 members of the emergency services were searching for the rafters.
A helicopter was also sent to the scene, near the town of Alberschwende, the incident commander told state broadcaster ORF.
Around 65 rafters in two teams had set off from the town of Langenegg early on Saturday morning.
At least five of the rafters were taken to hospital for treatment, reports the Austrian Press Agency (APA).