Russia to seek fugitive tycoon Berezovsky's assets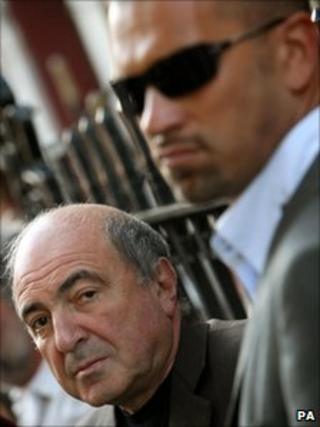 Russian prosecutors say they will seek to recover $465m (£300m) in foreign assets from fugitive UK-based tycoon Boris Berezovsky.
Chief Prosecutor Yuri Chaika said his office would actively work towards repatriating the assets, which he said were kept in Europe and elsewhere.
Berezovsky has twice been convicted in Russia of embezzlement, and sentenced in absentia to 19 years in prison.
He says the proceedings were politically motivated.
Granted political asylum in the UK in 2003, a couple of years after leaving Russia, the Yeltsin-era oligarch became a fierce critic of the Kremlin after Vladimir Putin took power.
At the end of August, he was seen taking part in a political rights protest outside the Russian embassy in London, holding a placard which read simply: "I made you, I'll remove you too."
In November 2007, he was sentenced to six years in jail in his absence for stealing millions of dollars from the Russian airline carrier Aeroflot in the 1990s. He described the verdict by a Moscow court as "a farce".
Then, in June 2009, he was sentenced to 13 years in his absence for stealing thousands of cars from Avtovaz, also in the 1990s.