German police search regional CDU office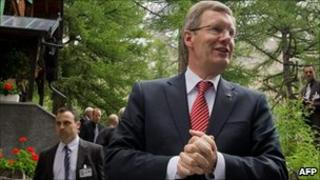 Police in the German state of Lower Saxony have seized documents from the regional office of the centre-right CDU party and 15 other buildings as part of an inquiry into election funding.
They are investigating whether the public works department in Wolfsburg was used to channel up to one million euros to the CDU in 2002-03.
The CDU has denied any wrongdoing.
Former CDU premier of Lower Saxony, Christian Wulff, elected in 2003, is now Germany's president.
The general secretary of the CDU, Ulf Thiele, said the party had made available to police its documents from the 2002-03 regional election campaign.
"It is not correct to speak of a raid," Mr Thiele said in a statement. "The state prosecutor has given us assurances that the CDU in Lower Saxony is not under suspicion. We have not been indicted in this matter."
Past scandals
In 2000, former chancellor Helmut Kohl resigned as honorary chairman of the CDU after he admitted illegally accepting thousands of dollars in party contributions.
The then party leader, Wolfgang Schaeuble, also resigned, making way for Angela Merkel, who was elected chancellor in 2005.
Among the buildings searched in Wolfsburg were the city hall, the department of public works and the house of the former press spokesman for the department, Maik Nahrstedt.
Mr Nahrstedt has already admitted campaigning for the CDU at the cost of the department of public works.
Wolfsburg is also the home of Volkswagen, which was itself enmeshed in a corruption scandal in 2005, when the head of personnel paid illegal bribes to members of the works council.