Inside Europe
Top Stories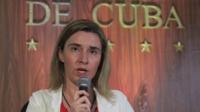 The EU's top diplomat meets Cuban leaders and says the EU will intensify talks aimed at normalising ties with Havana.
Leaving the EU could cost the UK economy 2.2% of total output (GDP) by 2030, a study by the think-tank Open Europe says.
The BBC looks at language surrounding the Greek debts talks and whether stereotypes of Greeks being 'lazy' or 'greedy' are true.