Inside Europe
Top Stories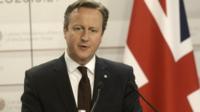 David Cameron says he can achieve a better deal for the UK in Europe but it won't be easy, ahead of key meetings next week with Angela Merkel and Jean-Claude Juncker.
EU ministers approve plans to establish a naval force to combat people-smugglers operating from Libya.
What is the Transatlantic Trade and Investment Partnership and why does it matter?