Obituary: Severiano Ballesteros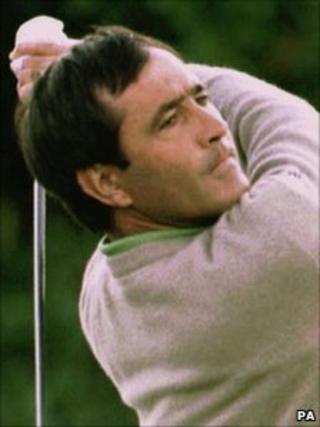 Severiano Ballesteros was one of the sporting world's greatest and most iconic characters and one of golf's most prodigious talents.
Known the world over just as "Seve", the Spaniard became synonymous with flair, passion and magical shot-making from the moment he burst onto the international scene in 1976.
His swashbuckling style, astonishing vision and sublime skill brought a fresh, radical and exciting approach to the game of golf.
There was a zing and panache in his shots that transformed his movements from the merely mechanical to the magical. And his magnetic charisma and unwavering spirit endeared him to fans around the world.
Ballesteros won a special place in the heart of British sports fans as he claimed the Open title three times (1979, 1984, 1988), the Masters twice (1980 and 1983) and led a golden age in European golf as both player and captain in the Ryder Cup.
"Seve was unique," said former Ryder Cup captain Tony Jacklin. "The impossible was an everyday thing for him."
Severiano "Seve" Ballesteros Sota was born in Pedrena, Spain, on 9 April 1957 into a large family, nearly all of whom were associated with golf.
Open winner
Seve's uncle, Ramon Sota, was a Spanish professional who finished sixth in the 1965 Masters, while his elder brothers Baldomero, Manuel and Vicente also became pros.
It was Manuel who famously gave him a cut-down three-iron with which the young Seve cultivated his wondrous array of shots, mainly on the local beach or by sneaking on to the Pedrena course at night.
The 10-year-old Ballesteros scored 51 for nine holes, including a 10 at the par-three 1st, in his first caddies' tournament at Pedrena and aged 12 he shot 79 for 18 holes to win the event.
He turned professional in March 1974, aged only 16, and burst to prominence two years later when he led the Open at Royal Birkdale for the first three days before finishing second, alongside Jack Nicklaus, behind the winner Johnny Miller.
The same year he went on to claim the European Order of Merit title, the first of three in succession and six overall.
Ballesteros clinched his first Claret Jug in 1979 aged 22 when he became the youngest winner of the Open in the 20th century.
Ryder Cup hero
The style and excitement of his play was epitomised by the 16th hole where, unlike most other players who took an iron off the tee for safety, he opted for a driver. In what was to become trademark fashion, he carved the tee shot into a temporary car park before conjuring an astonishing escape to set up a birdie en route to a three-shot victory.
His next appearance in a major was at the Masters in 1980 when he led by 10 shots with nine holes to go and went on to become the first European to win at Augusta.
He won the Masters again in 1983 and clinched a second Open title at St Andrews in 1984. The clenched fist celebration after holing his final birdie putt became the hallmark of the Ballesteros legend.
Seve traded the world number one spot with Australian Greg Norman throughout the late 1980s and he won his final major back at Lytham in 1988 when he shot a final-round 65 to pip Nick Price after a thrilling battle.
American Tom Kite, runner-up behind Ballesteros at Augusta in 1983, said of Ballesteros: "When he gets going, it's almost as if Seve is driving a Ferrari and the rest of us are in Chevrolets."
Superb though his individual achievements were, it is perhaps his inspirational involvement in the Ryder Cup for which Ballesteros will be most fondly remembered.
He made his debut in 1979 when players from continental Europe were added to the Great Britain and Ireland side for the first time, but was controversially left out in 1981 and had to be talked back into playing by new captain Tony Jacklin for the 1983 edition.
On his return, Ballesteros became the driving force in Europe's renaissance and sparked the beginning of a new era in Ryder Cup history. Jacklin's side, with Seve at its heart, won for the first time in 28 years in 1985 and clinched a first win on US soil two years later.
Injury problems
In all, Ballesteros won an incredible 20 points from 37 matches across eight Ryder Cups and formed a formidable partnership with compatriot Jose Maria Olazabal. The duo accumulated 12 points and are still the most successful pairing in Cup history.
After his illustrious run as a player, Ballesteros was appointed captain for the first Ryder Cup on Spanish soil in 1997 and he led the European side to a glorious victory at Valderrama.
Ballesteros's brilliance and refusal to give up in the matchplay format of golf enabled him to win the popular World Match Play event at Wentworth five times between 1981 and 1991.
The last of his 87 professional tournament victories came in 1995 but he was soon to be plagued by a chronic arthritic back and knee problems.
After two years out because of injury, Ballesteros made an all-too-brief return to the European Tour in October 2005.
His swing often still looked as classical and captivating as always but something had changed, the magic was no longer there and the results were often atrocious.
He missed the cut in what was to be his last Open in 2006 and his final appearance at the Masters came in 2007, where rounds of 86 and 80 left him at 22 over par and in last place.
Many believed he would forge a successful career on the senior circuit, but he played only one such Champions Tour event in the US and was joint last with Lee Trevino.
It was Trevino who said: "On a golf course he had everything, I mean everything; touch, power, know-how, courage and charisma."
Finally, in the week of the 2007 Open at Carnoustie, where he had made his debut in the famous event 32 years previously, Ballesteros confirmed what had been expected for some time, that he was retiring from professional golf.
In his later years on Tour, he pioneered some lasting team events that will keep his memory alive, the Seve Trophy between GB & Ireland and Europe and the Royal Trophy, between Europe and Asia.
When he was diagnosed with a brain tumour, Ballesteros said: "Throughout my entire career I have been one of the best at overcoming obstacles on the golf course. And now I want to be the best, facing the most difficult game of my life."