L'Oreal heiress Bettencourt and daughter 'end feud'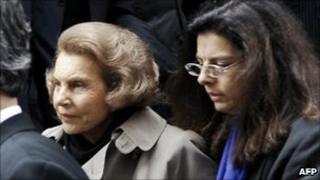 L'Oreal heiress Liliane Bettencourt has become reconciled with her daughter, ending a series of lawsuits, a lawyer for the daughter has said.
Francoise Meyers-Bettencourt tried to have her mother declared mentally unsound while Ms Bettencourt filed a suit accusing her daughter of abuse.
Ms Meyers-Bettencourt also dropped her case against a photographer she accused of taking advantage of her mother.
Ms Bettencourt, 88, is France's richest woman.
"They are overjoyed to be together again, even if it took three years of judicial disagreements to get to this happy ending," Ms Meyers-Bettencourt's lawyer, Olivier Metzner, told AFP news agency.
The feud between the two women led to claims of tax evasion and illegal donations to Nicolas Sarkozy's 2007 campaign for the presidency.
Ms Bettencourt is believed to have given celebrity photographer Francois-Marie Banier about 1bn euros of gifts over a 20-year period.
She ended relations with Mr Banier earlier this year, AFP news agency said, writing him out of her will.
Her fortune is estimated to amount to about 17bn euros ($22.6bn; £14.4bn).