Berlusconi suffers trial setback as judges amend law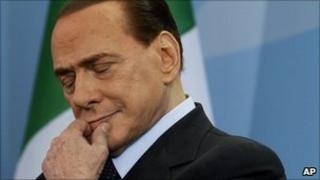 Italian Prime Minister Silvio Berlusconi has suffered a setback after judges amended a law shielding him from prosecution temporarily.
A Constitutional Court meeting in Rome ruled that individual judges should be allowed to decide whether a prime minister could be tried in office.
The 15 judges found that some points of the law passed last year were not consistent with the constitution.
Mr Berlusconi is a defendant in three trials which have been suspended.
He denies wrongdoing and mocked the constitutional hearing earlier.
The court said in a statement that the prime minister could not automatically invoke a "legitimate impediment" claim exempting him and cabinet ministers from attending trials in progress because of their official duties.
Had the court rejected the law completely, Mr Berlusconi's trials on corruption and tax fraud charges would have resumed immediately.
But Giovanni Guzzetta, a professor at Rome's Tor Vergata University, predicted that the trials would eventually restart.
"At each hearing it will have to be decided if the impediment invoked by the prime minister for not appearing is legitimate or not," he told AFP news agency.
The law granting members of the government immunity from prosecution for up to 18 months was passed in March in the face of bitter opposition.
Mr Berlusconi, who owns the Mediaset business empire, faces three trials in Milan:
He is accused of bribing British lawyer David Mills to give false testimony in 1997 to protect his business interests
He is accused of inflating the price paid for acquiring television rights via offshore companies under his control and skimming off part of the sum declared to create illegal slush funds
He is accused of fraud and embezzlement over the acquisition of television rights at inflated prices
The prime minister has argued he is the target of left-wing prosecutors.
Mr Berlusconi told reporters in Berlin on Wednesday that he found the Constitutional Court hearing "laughable".