The 'miracle' that led towards beatification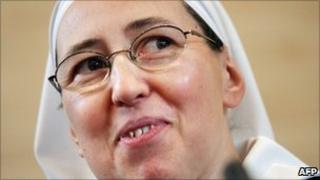 The signing of a decree by Pope Benedict XVI recognising that a miracle took place at the intercession of John Paul II represents the final step to beatification for the late pontiff.
It is the culmination of a process that was initiated officially in June 2005, two months after his death, but that had been called for by his faithful even before he breathed his last.
Normally, the process of beatification - or declaring "blessed" - cannot begin until five years after the candidate's death, but Pope Benedict XVI made a special exception for his predecessor, such was the strength of feeling among many Catholics.
"This has been an accelerated process," Andrea Tornielli, a Vatican expert and journalist with Italian daily Il Giornale, told the BBC.
"Just this morning Cardinal Angelo Amato - the Prefect of the Congregation for the Causes of Saints - said that things had been speeded up, fast-tracked if you like. But it was still done with the utmost care.
"A special dispensation was granted, just as John Paul II did himself for the beatification of Mother Teresa of Calcutta."
The key to John Paul II reaching the status of blessed lies with a young French nun, whose experience has been judged a miracle.
Sister Marie Simon-Pierre was 44 and working as a nurse in a hospital maternity unit near Arles, in southern France, when she fell ill, in 2001.
Diagnosed with Parkinson's Disease, she described how the neurological condition worsened dramatically following the death of John Paul II, on 2 April 2005.
'They prayed incessantly'
As soon as the special dispensation had been granted to allow John Paul II to be considered for beatification, her community began to pray to him for a miracle.
"My fellow sisters from all the French and African communities started asking John Paul II to intercede for my healing. They prayed incessantly, tirelessly, right up to the news of my healing," she has described.
She explained that she knew she was healed when she was able to hold a pen and write his name on a piece of paper.
"And my handwriting was perfectly legible! Astonishing! I laid on my bed, amazed. Exactly two months has passed since John Paul II returned to the House of the Father. I awoke at 4:30, amazed at having been able to sleep. I suddenly got out of bed: my body was no longer painful, there was no rigidity and, inside, I was no longer the same."
On Friday, after months of deliberations and a complex process that has involved both medical experts and Church officials, Pope Benedict XVI confirmed that such a dramatic and scientifically inexplicable shift in her physical condition was indeed due to the intercession of John Paul II.
The case fulfilled the criteria for a miracle - the healing was instant, without scientific explanation and long-lasting.
"Her case is exceptional as we know that you cannot normally be cured of neurological diseases. As far as I know there are no documented cases in medicine of a regression of such kinds of illnesses," Mr Andrea Tornielli said.
"That is why the case was so emblematic - and of course it was the same illness that John Paul had suffered from 1992, and which had shaped the final years of his life."
The path was not entirely smooth, however.
"One of the French doctors who was treating the sister does not believe in the supernatural. Well, when he saw she was healed, he said that if she was now better, she could not have had Parkinson's Disease," Mr Tornielli said.
According to medical experts, is not easy to diagnose Parkinson's, as there are no particular tests that can prove whether or not someone has the condition. It is also possible to mis-diagnose it.
The process was lengthy - with an initial investigation initiated by the Bishop of Arles, before all medical documents were forwarded to the Vatican.
They are then deliberated upon by a series of panels, including between five and 10 medical experts. The secretive process is likely to have taken into account whether or not there was a medical explanation for a sudden change in her condition.
These may have included what medical experts suggested at the time could be "psychiatric mimics", which can show similar symptoms as Parkinson's disease, but those symptoms cannot be attributed to neurological disease.
According to Mr Tornielli, the vote on a lack of a scientific explanation does not have to be unanimous, but a majority must be achieved.
Other panels comprising theologians, then bishops and cardinals will have reviewed the case, before it was finally pronounced upon and approved by Pope Benedict XVI.
There was no shortage of potential candidates for a miraculous cure, Mr Tornielli said: "They collected dozens of examples - some of them, four or five - deserved serious considered. He was such a popular figure during his life that it was no surprise that many pray to him after his death".