Aer Lingus to cancel 34 flights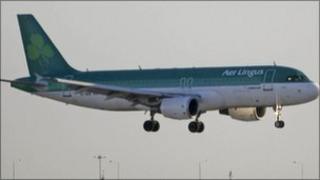 Aer Lingus is to cancel 34 of Thursday's flights between Dublin and the UK and other parts of Europe because of a cabin crew dispute.
About 2,700 people are to be affected and Aer Lingus has said passengers will receive text messages.
The company has confirmed that 82 cabin crew have now been suspended in the row over new rosters.
The IMPACT trade union has asked the Labour Court to intervene to resolve the escalating dispute.