Silvio Berlusconi refuses to quit in Italy sex scandal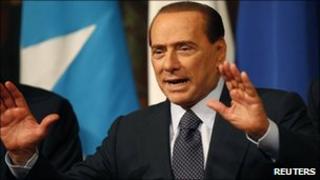 Italian Prime Minister Silvio Berlusconi has told his People of Freedom party he has no intention of resigning over allegations he had sex with an under-age prostitute.
Mr Berlusconi also accused magistrates investigating the case of illegally spying on him.
"I am not running away and I am not resigning," he said in a telephone call to a meeting of his party.
Mr Berlusconi insists the allegations are politically motivated.
He has refused to appear before prosecutors who want to question him over his relations with prostitutes, including an 18-year-old Moroccan belly-dancer who attended Mr Berlusconi's parties when she was 17 and, prosecutors say, was paid to have sex with him.
Frequenting prostitutes is not a crime in Italy but having sex with one under the age of 18 is an imprisonable offence.
Both Mr Berlusconi and Karima El Mahroug, also called Ruby, have denied having sexual relations, and she has described a sum of 7,000 euros (£5,900) that he gave her as a gift.
Italian newspapers have been running transcripts of telephone calls by more than 20 women who are alleged to have attended sex parties at Mr Berlusconi's residences.
Pope steps in
Mr Berlusconi, 74, said in his telephone call: "I am defending myself and reacting to what is truly an attempt to subvert the will of voters."
He condemned the media revelations and said magistrates were intent on ousting him from power.
Mr Berlusconi said: "Since the beginning of 2010 all the guests that came to my house in Arcore have been subject to continued phone tapping. Is it normal in a democracy that the prime minister can be subject to this type of controls, to this spying?"
On Friday, Mr Berlusconi's lawyers said he would not attend questioning on the allegations and argued that the Milanese prosecutors had no jurisdiction to investigate the matter.
Also on Friday, Pope Benedict XVI stepped into the row, saying public officials must offer a strong moral example.
Though Silvio Berlusconi's name was not explicitly mentioned, the Pope said: "Society and public institutions must rediscover their soul, their moral and spiritual roots."
Separately, veteran film director Marco Bellochio said on Saturday that creeping censorship had made it impossible for him to raise funds for a movie satirising the antics of Mr Berlusconi.
Mr Bellochio said that for the first time in his career he had been unable to find a single producer for the film - the tale of a girl caught up in a headline-grabbing circus of racy parties and luxury villas.