Bosnian Serb fugitive Mladic's son's apartment searched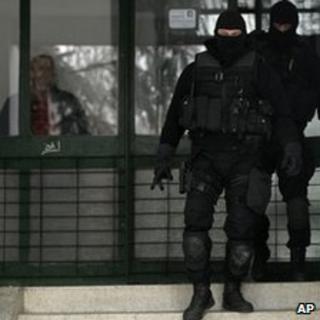 An apartment belonging to the son of the fugitive Bosnian Serb Gen Ratko Mladic, who is wanted for war crimes, has been searched in Belgrade.
The raid was aimed at establishing information regarding the whereabouts of Mr Mladic.
He was indicted in 1995 for his part in the Bosnian war.
Separately, a former military intelligence chief, Aco Tomic, has been questioned in Belgrade, suspected of helping Mr Mladic evade capture.
The apartment of Darko Mladic was searched for several hours on Monday morning for clues that could bring the police closer to his fugitive father.
The property has been the subject of several past raids.
It has not been disclosed what - if anything - was recovered this time, but the deputy war crimes prosecutor called the search "very successful".
Mr Tomic, a former security chief of the Yugoslav army, is suspected of hiding the former Bosnian Serb general and organising his transfer to a military base back in 2002.
EU stumbling block
Fifteen years after his indictment by the UN war crimes tribunal in The Hague on charges of genocide and other war crimes, Ratko Mladic is still on the run.
He is known to have been been in Belgrade until at least 2006, after which the Serbian government began to pursue him more aggressively.
The authorities in Belgrade are often accused of staging raids to satisfy the Hague tribunal's chief prosecutor, Serge Brammertz, coinciding with his regular visits; he is next due in Belgrade in February.
Mr Brammertz has warned Serbia it is still not doing enough to apprehend Ratko Mladic.
But Belgrade is desperate to show it is committed to the hunt, since failure to catch the fugitive is the key stumbling block to the country's hopes of joining the European Union.